2018 Volvo V90, S90, XC60
Frank S. Washington | 9/27/2017, 3:57 p.m.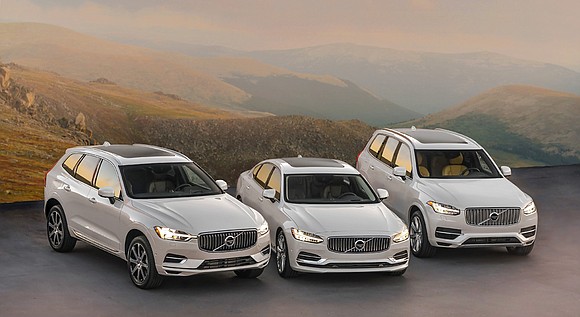 When Volvo picked us up at the airport my riding partner and I climbed into the back seats of what turned out to be a 2018 XC90 Excellence. It was the most luxurious utility vehicle I had ever been in.
There were heated and cooled rear seats that massaged the tired traveler. What's more, they were power seats. A high central tunnel with armrest, cup holders and a couple of crystal glasses separated my ride partner and me.
The rear passenger seats were equipped with footrests, there was a chill compartment between the seat backs and each rear seat had a retractable tray (read desk) that I sat my iPad on with its keyboard and started typing notes. Each seat had what I thought was a DVD screen but upon taking a really good look it turned out to be its own iPad and dual set of USB jacks for each.
Most notable was the clear partition that separated the luggage and passenger compartments. I've never seen that in a utility vehicle. The panoramic roof showered the interior with natural light. Add a thumping 20-speaker sound system and I'd rather sit in the back seat of the Volvo XC90 Excellence. What's more, we were not here to test drive this vehicle.
We were here to test-drive a trio of Volvos; the first two were the V90 and the S90, and the last was the XC60. The presentation started with the declaration that Volvo is redefining luxury and after experiencing the XC90 Excellence I could hardly disagree.
One of the things that came out of this particular program was that Volvo was undergoing a metamorphosis. In addition to new products, new engines, new chassis, a new philosophy, the goal of electrifying its entire product line and being on the cutting edge of putting self driving or autonomous cars on the road, the company is in the midst of a manufacturing watershed.
Coming on line are two assembly plants and an engine plant in China, Volvo already had assembly plants in Sweden and in Belgium and the company is building an assembly plant here in South Carolina which it recently announced it was going to expand. "We intend to build cars where we sell them," a spokesman told us.
For the first leg of the drive, we chose the 2018 Volvo V90 T6 Inscription with all-wheel-drive. We started from an altitude of 5,280 feet and climbed up to more than 8,000 feet. There was something about power to all four wheels that made us feel a bit more secure.
The only way to get this car is by order, either on Volvo's Web site or at a dealer. Volvo calls it the Concierge Program. Three is also the Overseas Delivery program, customers can pick the color, interior, trim and engine at their Volvo dealer and receive two paid airline tickets and hotel accommodations to pick up the car at Volvo's Torslanda, Sweden factory.
You get a factory tour; you can drive around Europe, take the V90 to a port of your choice and have it shipped home. The XC90 Excellence is also part of this program.