Central's opening production, "Jake's Women" by Neil Simon
4/11/2018, 1:13 p.m.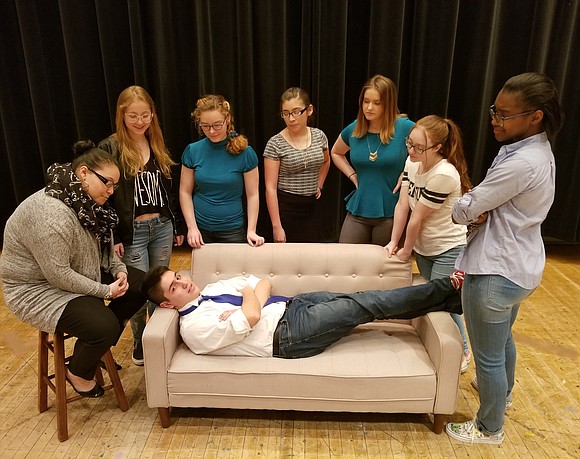 Joliet Central's production of "Jake's Women" is a return to true American comedy.
This hilarious show is the story of Jake, a novelist who is more successful with
fiction that with life, and the marital crisis he faces by daydreaming about the
women in his life. The wildly comic and sometimes moving flashbacks played in his
mind are interrupted by visitations from actual females. Director Joe Hoyt is
excited to provide the opportunity for his talented drama students to produce the
most challenging style of theatre- theatre in the round. "This marks the first time
that a production will be presented with an audience sitting on every side of the
stage, thus providing a unique and compelling performance experience."
The production will take place on April 13th 7:00pm, April 14th 7:00pm, April 15th 3:00pm at Joliet Central High School Auditorium. The House opens 30 minutes prior to show time. Tickets are $10 - Tickets sold at the door
Cast includes Seniors Adam Rociles, Alexis Bell, and Karolina Pawlica, juniors Hanna
Hagerty, Jennifer Guzman-Vieyra, and Kiara Brown, as well as sophomores Johnna Grimm and Lily Bryson.
Joseph Hoyt (Director) runs the Drama Department at Joliet Central and this is his
8th year with the high school. A professional actor and director, Joseph received
his teaching certification in Drama and English after 15 years performing and
directing regional theatre productions in Ohio, Pennsylvania, West Virginia,
Kentucky, and Chicago, IL. Some of his directing credits include A Mid Summer
Night's Dream, The Rats, Outcasts of Poker Flat, Lend Me a Tenor, Funny Money,
Stonewater Rapture, Hamlet and Biloxi Blues.