New crop of Joliet firefighters includes first female cadet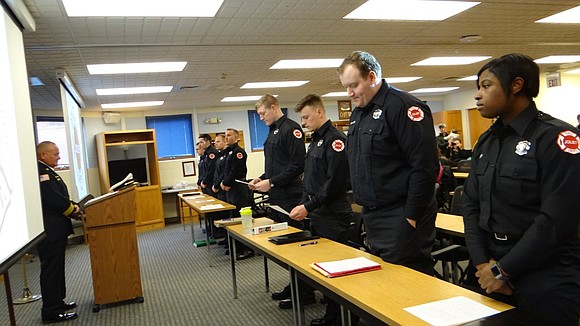 This week, the Joliet Fire Department welcomed eight new hires to the city including its first female officer.
Joliet Mayor Bob O'Dekirk attended a welcome ceremony which included the new officers taking the oath of office and then signing a book which every new officer has signed their name to since 1908.
The new recruits include Anthony Doukas, Kevin McCool, Chris Gotter, James Ryan, David Ivnik, Kyle Snelten, Frank Cavallone and Carissa Smith, the city's first female firefighter.
Smith previously served as a medic in the Army, a police officer in Downers Grove and as a firefighter in Morris said Deputy Chief Greg Blaskey.
The deputy chief pointed out the high hurdle that candidates must clear to reach the hiring stage with the city's department. That includes a competitive field of candidates who must go through an extensive testing, vetting and interview process conducted by the police and fire board.
He said the city received 600 applications in late fall 2017 for the chance to become part of the department's pool of applicants. Those who apply take a written exam and the top 200 scores move on to an oral interview. Following those two parts of the testing phase, applicants are ranked in order said Blaskey. Those candidates are then reviewed by the police and fire board when openings become available after which they undergo a "rigorous background, psychological evaluation" before they are hired.
Candidates who go through all of the phases of testing and evaluation aren't guaranteed to be hired said Blaskey who noted that those who are part of the eligible pool of candidates could wait up to two years after which time the candidate list is wiped clean and the hiring process starts all over again.
"There is some angst that goes along with it," said Blaskey of the process he went through 31 years ago. He said that it sometimes comes down to timing and whether the department experiences any turnover or retirements within that two-year window.
The new class of recruits' work isn't over yet, as Blaskey notes that they will spend 10 weeks in the fire academy followed by a year-long paramedic school for those who don't already have the certification. Three of the new hires he said are paramedics already. Following, that, Blaskey, said the real training will begin.
"The best education in the fire service is experience," he said.