Wine of the Week: Harper Voit Willamette Valley Pinot Noir – Strandline - $36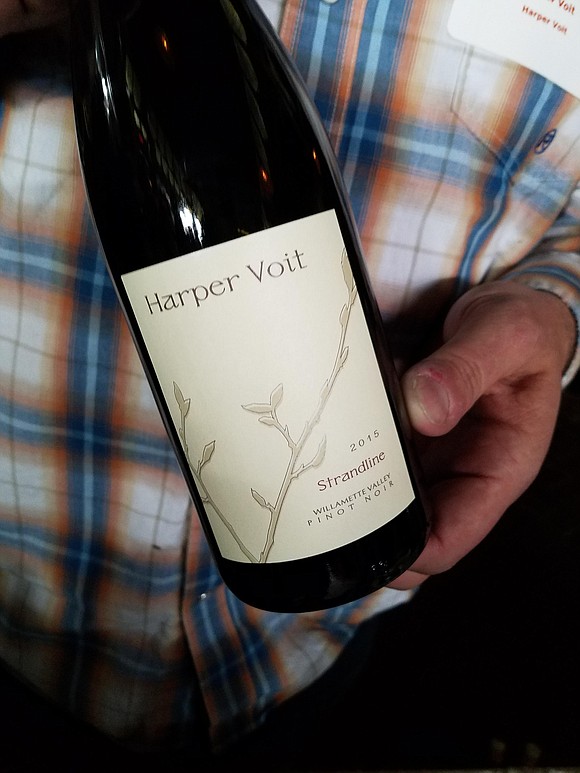 Oregon's Willamette Valley, at 150 miles, is the longest valley in the Pacific Northwest region, and that state's largest wine producing region. Its rich alluvial soils, caused by Ice Age flooding, produce some of the most luscious grapes imaginable. Chief among them is the delicate Pinot Noir grape. Finicky and hard to grow in most environs, the grape is right at home here in the cool, mineral rich terroir of the Willamette Valley.
Surrounded on three sides by mountain ranges, the unique growing environment is understandably produce some outstanding wines that captivate the senses and the palates of wine lovers, sommeliers and critics alike. The current darling of the wine drinking world is Harper Voit Strandline Pinot Noir ($36.95) from the Willamette Valley.
Winemaker Drew Voit sums up the basis for the superiority of the wine with this statement; "The soil types, microclimates and clonal selection continues to drive our vineyards and winery work." The resulting wine is a polished expression of the regions biodiversity, with bright fruit and well-integrated tannins. The wine literally vibrates with flavors of fresh red and dark blue berries and hints of sandalwood and underbrush that linger long on the palate, giving the wine a lengthy, satisfying finish.
Served slightly cool at cellar temperature, this wine is wonderful with grilled meats brushed with oil and rosemary and just passed over the coals long enough to get a bit of a char. Think lamb, pork loin, a duck breast slathered in tarragon with some new potatoes cooked just enough to preserve a bit of crunchiness and lightly dusted with Himalayan Sea Salt and cracked Rainbow Peppercorns. Or make it a real celebration of the Pacific Northwest with a whole grilled salmon stuffed with herbs. Grilled asparagus and eggplant make for marvelous sides.