Indicted officer returning to work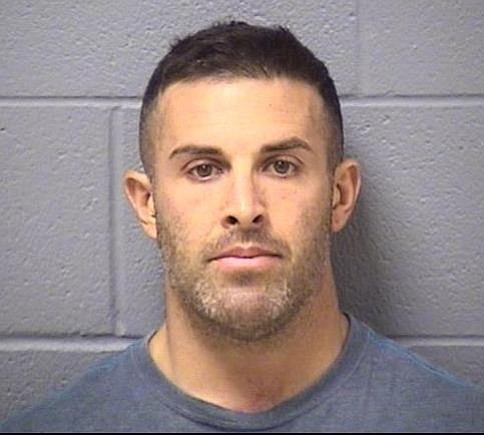 A Joliet Police officer who has been off work since he was charged with reckless discharge of a firearm, domestic battery, and property damage in July 2017 is headed back to work.
Officer Nick Crowley, 37, has been on paid leave since he was charged with a felony firearms charge and two misdemeanors last summer but will return to work in a non-police capacity according to city manager David Hales.
Hales made the recommendation at Tuesday's city council meeting after Mayor Bob O'Dekirk asked him and the city's police chief, Brian Benton, to find a way for the officer to earn the paychecks he continued to receive from the city earlier this month.
"I have an issue, and I think a lot of the tax payers of Joliet have an issue, with a Joliet city employee not coming to work and collecting a paycheck every two weeks," said O'Dekirk at the April 3 city council meeting.
"I think it's the wrong decision to allow him to stay home," said O'Dekirk, "If he's going to be taking a paycheck from the city I think he needs to be coming to work."
Crowley is set to go to trial on May 14 for firearms charges. A grand jury last fall chose not to indict him on the misdemeanor charges of domestic battery and criminal property damage. The charges stem from a July 2017 incident in which Crowley is alleged to have fired his weapon into the ceiling of a home he shared with his girlfriend, also a city police officer, who he is also alleged to have struck. Also in 2017, a photo circulated on social media showing Crowley posing with his service weapon unholstered in a police vehicle in the presence of a civilian, an incident for which he received a 5-day suspension. Will County Sheriff's Office records indicate that Crowley posted 10% of a $50,000 bond for his release until trial.
A 2017 payroll report on the city's website indicates that Crowley earned $92, 796 in gross wages last year.
Hales said that the city will take a more "aggressive" stance in looking for other work opportunities for city employees who are displaced from their regular positions from now on.

"I've directed the police chief to notify that particular police officer to come back," where he will be placed on light duty in a non-police capacity Hales told the council Tuesday.
He said that he and the city's legal counsel looked at the city's own practices and others from other communities to craft new rules to use in future instances where the first option will be to place the employee on light duty.

He cautioned, however, that "each case is different" adding, "we're going to be much more aggressive in looking for opportunities for those that have to be out of their job" to have them continue to work "where a leave is justified."