Slammers Stadium sheds old name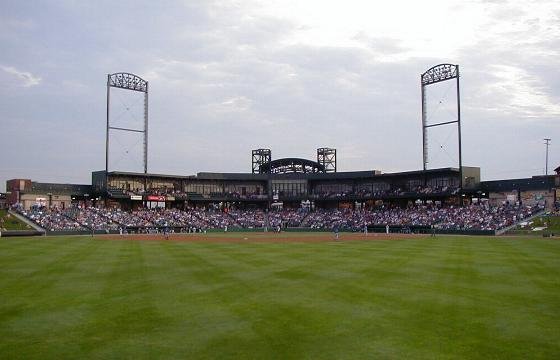 The installation of new artificial turf and other upgrades at Slammer's Stadium, Joliet's minor league baseball park, is about 95% complete.
That's according to City of Joliet Public Works Director Jim Trizna who told the city council this week that the project was slowed down slightly by unexpected wintry conditions but that he expected work to be completed within the next 2 weeks.
All that remained, said Trizna, was an area behind home plate and the remaining striping for the ball field calling the work being completed "great progress."
In addition, about 90% of a new exterior fence was expected to be completed as well.
Trizna said that the crews that were working on light installation last week also took time to remove the Silver Cross field name down.

Silver Cross Hospital had held the stadium naming rights since 2002 but in 2016 declined to renew the sponsorship. The city decided to wait to remove the name until work requiring lift equipment was on site to complete the job as a cost saving measure.
"Now it's just a matter of getting some money in place for the new stadium name," said Trizna, referring to the stadium's official new name, Route 66 Stadium which was announced in November last year.
When the new name was announced last fall, the city indicated that it was looking for a new naming sponsor for the stadium that will help pay for the new, redesigned signage that will incorporate the name of the sponsor as well as the Route 66 indicia.
The city approved the plan to invest just over $1,889,922 for the turf upgrade at the 6,000-seat park last year with an eye toward making the stadium more versatile for use for other sporting events including soccer, La Crosse as well as concerts with financing coming from the city's TIF district.
In addition to the new artificial turf, the city also has invested in a new clay infield, irrigation system and relocation of a left-field fence that will expand the field for use for other sports.
Officials last year also noted that the stadium could capture more business hosting amateur baseball and other sports tournaments as a result of the new field upgrades which could in turn boost hotel room stays as well as tourism dollars being spent in the city.