Troy school receives highest honor at competition
4/18/2018, 11:16 a.m.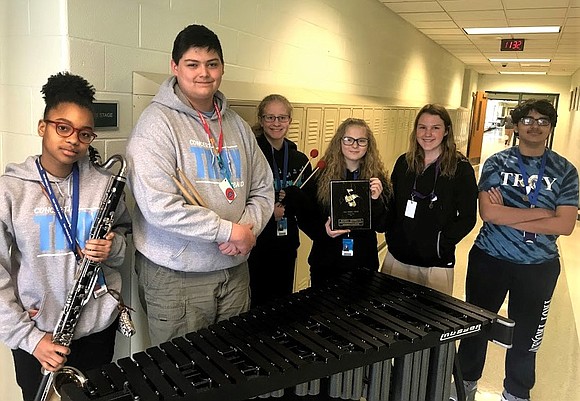 Three Troy Middle School and William B. Orenic Intermediate School choirs and three bands earned Division 1 Awards at the recent Illinois Grade School Music Association (IGSMA) District 6 Organization Contest.
The 6th Grade Choir, the Varsity Choir and the Concert Choir took home the awards, as did the 6th Grade Intermediate Band, the Concert Band and the Symphonic Band. The schools' choir director is Kelsey Hagan, and its band directors are William Goetz and Jennifer Carlton.
"Preparing for contest is a process that takes a great amount of dedication and persistence," Hagan said. "Earning a 'Division 1' demonstrates each group's work ethic every day in class and highlights their ability to create and communicate an artistic message."
The Varsity Choir and the Symphonic Band also received perfect scores at the contest. The groups are rated in seven categories, and bands and choirs that receive one point in each category earn the perfect score of a seven.
Only 12 other schools in the state received perfect scores at the competition.
The other two District 6 schools that earned perfect scores were the Kirby Symphonic Band and the Summit Hill Symphonic Band.
All six Troy groups who performed in the contest will perform at the April 28 IGSMA State Festival.