Wayne's Words: Joliet Renaissance underway
4/18/2018, 11:58 a.m.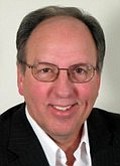 Many expectations come from all of us with the passing of winter into spring. Warm weather, baseball, and the construction season are but a few of those expectations. The weather here in Joliet has yet to meet most of our desires. The baseball stadium where the Slammers play is still not quite ready for opening day, although we have been assured the new artificial turf will be ready for baseball.
The construction season in downtown Joliet is in full swing. The newly completed train station is open, construction on the new courthouse has begun, and the building across from the Rialto is being demolished in favor of an open-air pavilion. It is anticipated that Chicago Street will be open to through traffic in 2019 from I-80 to the Ruby Street bridge, trucks and all.
No mention has been made about truck traffic on Chicago Street. According to Councilman Larry Hug at Monday's Council meeting, Chicago Street is a state highway route and it's their decision making it one way going north. Apparently, that includes trucks.

The renaissance taking place in downtown Joliet hopefully bodes well for the city. It is curious, though, with all that progress, we're still dealing with 20th century parking conditions on downtown streets.
Last week the city notified commuter parking patrons that the former one dollar per day parking fee is reverting back to the one dollar per hour rate. That's the cost of having a shiny new train station for commuters. New lots and better pavement have also been promised to accommodate the expected increase in commuter parking. That's a big positive.
What about the rest of downtown that still has ancient parking meter spaces for the short-term users? Both parking decks are crumbling, dirty, and are dark and dank. There is a promise that the meters are being replaced with more up to date technology but at present it's being tested (?) for possible expansion to the whole City Center. In the meantime, better keep several quarters in the car for each 15- minute time span you need to visit the U.S. Post Office, an attorney, or a favorite restaurant.
Not only is the parking system (?) downtown antiquated, catching expired parkers is hit and miss, mostly missed, and the city hasn't been very successful collecting the fines from those that do get a parking ticket. That's why they hired an expensive collection service to whittle down the more than $2 million in unpaid fines. What happened to the idea of free parking?
Back in 2015 newly elected Mayor Bob O'Dekirk published a much-forgotten document titled "City of Joliet 2015 Mayoral Transition Report." The 36-page report is not binding but one of the many recommendations found in the document concerns replacing the parking meters with a technology known as LPR or License Plate Recognition software. It could allow for some free parking, but more importantly, a more cost effective and efficient method of managing on and off-street parking.
An increasing number of municipalities around the country are relying on the technology for parking management. In addition, LPR can search for stolen vehicles, suspended license plates, and allow for booting vehicles with unpaid city fines. With the operation of LPR, a parking patrol car can be driven around the designated parking areas rather than the current slow and inefficient foot patrols on downtown streets.
Just a random thought, but it is interesting to note that all the construction that has occurred in downtown Joliet in the last 20 years, with the exception of Harrah's Casino, has been for government buildings. The City Center is primarily a government campus. There is nothing wrong with that image but where is all the private investment that was promised to occur when all of those past projects were completed?
One last thing…the old Post Office in downtown Joliet represents one of the oldest and most respected institutions in America. It is a public institution. It is convenient. It is a grand piece of architecture. It was saved from closing several years ago to the delight of both users and employees at the location. It does not display the U.S. Flag from the two-story flagpole in front of the building. Why not? According to the U.S. Flag Code, the flag should be displayed daily from every public institution. Flying the U.S. Flag at the Post Office shouldn't be an option.

Stay tuned…
Contact Wayne's Words at whorne@thetimesweekly.com