'Day of Play' will mark 1-year anniversary of toddler's death
The Justice for Sema'j Action Team will host a "Day of Play" on Saturday, April 28 at Oak Valley Park in Joliet.
The event comes a day after the 1-year anniversary of the death of Joliet toddler, Sema'j Crosby who was found dead in her home after a 2-day search for the 17-month old.
The event was announced on the Action Team's Face Book page in April.

In a statement, the group said that they hope the event will provide an opportunity to "celebrate her incredible impact on our community."
"Although her life was cut short, her impact on all of us, especially the children is so significant," the statement read.
Events for the day, which starts at noon and runs until 3, includes, a balloon release, games, a magician, a musical tribute, and assorted treats. The notice also indicates that t-shirts for the event can be pre-ordered.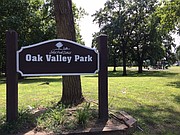 17-month old Sema'j Crosby was first reported missing from her Louis Rd. home in Joliet Township on April 25, 2017. Following a community-wide effort to find the missing toddler, police searched her home where they found her lifeless body under a couch on April 27. So far, no person of interest or suspect has been charged though the Will County Coroner ruled her death a homicide by suffocation in September last year.
Crosby's mother Sheri Gordon, along with 4 other people have been identified by the Will County Sheriff's Office as persons of interest in her death. Those persons of interest include Crosby's grandmother, an aunt, a friend of the family as well as a minor who lived there. So far, no charges have been filed against anyone for her death or for what investigators believe was an act of arson that destroyed the home in May last year.
The Action Team petitioned the Joliet Park District to rename Oak Valley Park, the site of Saturday's event, after Crosby but the board decided in December that the request didn't meet its criteria for the name change recommending a commemorative plaque and tree be planted in her honor.
The group released a statement earlier this year, rejecting the proposal citing their consultation with the toddler's father.
"There is very specific reason to decline this gesture, however we will reserve that discussion for an in person visit in the future," read a statement from the group.
The group later released a statement noting that it was "busy working on other ways and options to keep Sema'j memory alive."