Film Review: "A Quiet Place" Breathes New Life into Horror Genre
Reviewed by Dwight Brown | 4/25/2018, 11:35 a.m.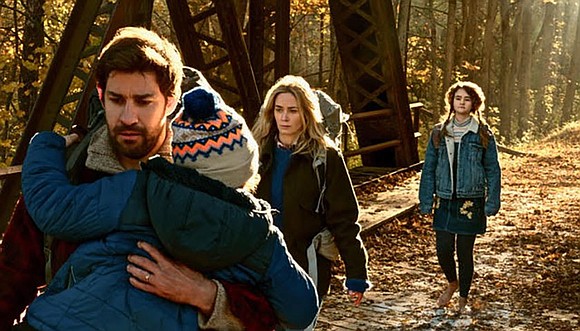 Reviewed by Dwight Brown
Film Critic
3 1/2 stars (out of 5
What you'll hear and see in this topnotch horror/thriller has got to be one of the best uses of sound deprivation and sound effects ever blended together in any movie.
With the release of last year's "Get Out," the horror genre has blown up big time. It's no longer limited to your granddaddy's "Frankenstein."
"A Quiet Place," with its extremely well-thought-out use of silence and noise, is another one of the new age pioneers that is stretching boundaries. Rarely has a scary movie been so filled with vulnerable protagonists and fraught with abject fear, impending danger and raw emotion. Wow.
The unlikely source of this trailblazing filmmaking is the actor John Krasinski. Yes, the comic thespian from TV's "The Office" and the occasional dramatic lead in films like "13 Hours." Krasinski marked his feature directing debut with "Brief Interviews with Hideous Men" and followed that up with the comedy/drama "The Hollars," a film he co-starred and directed. With this high-concept piece, he meshes writing, acting and directing duties.
The young dad Lee Abbott (Krasinski) walks through an abandoned general store in an empty New England-looking town, where fallen leaves blow down desolate streets. With his wife, Evelyn (Emily Blunt, "The Girl on the Train," and Krasinski's real-life spouse) in tow, and his three children behind him, the group scavenges for supplies. There's Regan (Millicent Simmonds, "Wonderstruck") a stubborn tween girl who is deaf; her younger brother Marcus (Noah Jupe," Wonder") and the barely-over-toddler-aged Beau (Cade Woodard).
As the family walks home, single file through the woods, it's hard not to notice that they don't talk. They are also hypersensitive to making any noise, to the point that they walk barefoot and seem paranoid that something will jump out at them. Their fear is just, as violent deadly creatures abound, who can take out a subject or person in one swoop. The trick with the menacing demons is that they are blind and stalk victims based on noise. Hence the survivalists' shroud of quietness. And if the family needs a reminder just how precarious their situation is, they get it when one of them makes a peep and swift carnage ensues.
That's the setup by screenwriters Bryan Woods, Scott Beck ("The Bride Wore Blood") and Krasinski. Most of the action takes place around the Abbott's farm, in corn fields, nearby streams, their house and bunker cellar. The lack of locations just makes the proceedings more eerie and claustrophobic. You feel that their lives are constrained, stripped-down and boxed-in.
The dynamics between Lee and the bullheaded Regan, strain emotions within the clan and add a tension within their dire circumstances that pulls you closer into their lives, far deeper than the standard genre film. Every step they make, any impromptu outburst or falling object could mean death. It's a horrible way to live. It instills fear in the family and the viewer almost instantly. It scares you to the core with unabated anxiety for 90 nail-biting minutes.