Redevelopment plans for Stadium Club building fall through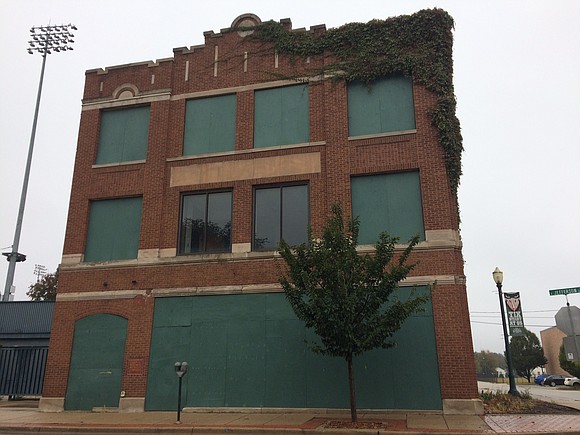 The City of Joliet has repealed an agreement that would have brought a mixed use development to the former Stadium Club building downtown.
Developers for the project "notified the city that they cannot proceed with this project as originally proposed," said City Manager David Hales. Hales said that the reset on the project would bring "further discussion" with city council in the near future. A city memo indicates that the developers notified the city of its plans to withdraw from the project at the end of February and that city economic development staff were already working to market the property.
Last fall, the city council approved a Tax Increment Funding (TIF) grant for the Stadium Club LLC developer which indicated that it planned to convert the Stadium Club building at 141 W. Jefferson St. into a mix of apartments and commercial space.
Once completed, the revamp would bring 11 apartments and 18,000 square feet of commercial space to the building that sits next to the newly-renamed Route 66 Stadium for the minor league Slammers baseball team.
The city agreed to invest $300,000 in grant funds from its TIF district with the City Center Partnership contributing another $100,000 toward the planned $1.8 million project.
The city also agreed to waive building permit and impact fees and offered a 50% rebate on property tax revenue for the life of the TIF district and set a $1 per year parking fee for the 26 city parking spots adjacent to the site.
As part of its efforts to revitalize its downtown, Joliet officials have identified the development of more apartment living space in the city's downtown as a major component of their redevelopment plans. More apartment space was also identified as a key need by the Will County Center for Economic Development as well which noted it factor in attracting millennial workers to the city's downtown.
A similar project with a mix of apartment and commercial space also fell through last year at the Loughran Building, 1 E. Cass St.
Still on track is the project approved for the Barber Building, 76 N. Chigaco St., which will include a mix of retail and residential space which the city has agreed to invest $250,000 from its TIF funds along with $150,000 from the City Center Partnership. Once completed, the $2.5 million project is expected to bring another 35 apartments and 39,000 square feet of commercial space to the downtown.