Wine of the Week – Dry Creek Sonoma Old Vines Zinfandel 2015-$28.98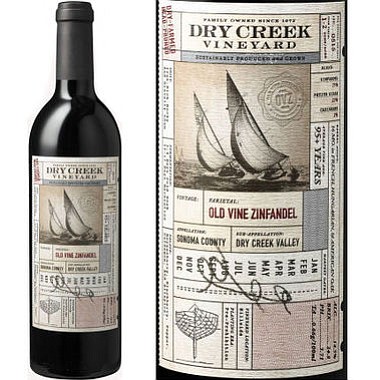 A bold, beautiful wine, full of rich red fruit flavors of blackberries, dark plums, dried oregano, and cracked pepper with hints of dark unsweetened cocoa on the finish, this is the perfect wine to go with a well-aged Cowboy Rib Eye steak, right off the grill or a slab of Baby Back Ribs in a dark molasses sauce. The wine has a dark ruby-red color that is appealing.
The color is a sign of things to come, with a nice jammy taste, like blackberry jam. The smooth tannins and 14.5% alcohol give this wine considerable body. The combination of 78% Zinfandel, 19% Petit Syrah and 3% Carignan makes for a broad flavor palate of black cherries, black currants, cherries, raspberries, with a bit of cinnamon spice from oak aging. This is a beautiful wine that you'll want to linger with long after the meal is over. Have it with a slick of Silton or well-aged Gouda or Machengo cheese for a nice after-dinner treat .It also goes well with California Black Figs, which can occasionally be found at Whole Foods.
This wine could even be better with a year or two of bottle aging, but why bother. Enjoy it now, its perfect just as it is.