Part One of Three-2018 Newport Jazz Festival Honors established Legends and Rising Stars
Artistic Director Christian McBride Excels with Exceptional Lineup of 2018 Newport Jazz Festival | 8/8/2018, 5 p.m.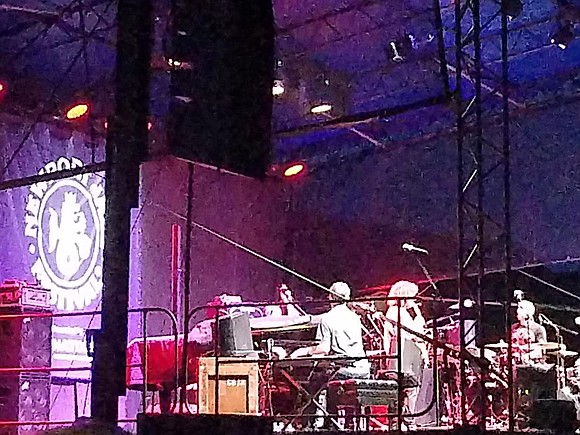 Like a painter digging deep into his palette of oils and water colors, newly-appointed Artistic Director Christian McBride extracted a 2018 Newport Jazz Festival program that showcased the full depth and breadth of the musical genre in a kaleidoscope of colors. Legendary lions bellowed from the caverns of time; the guitar great Pat Metheny on Opening Night at the International Tennis Hall of Fame, site of the original festival in 1954, and Charles Lloyd, celebrating his 80th birthday in a trio of settings, and rising stars such as teen wunderkind Matthew Whitaker and the scintillating baritone Jose James streamed across the Newport Bay sky like so many multi-colored musical fireworks. This was no artifice, but the referencing of a skilled hand presenting a weekend calendar of artists designed to please both the seasoned aficionado and the jazz neophyte alike.
Guitar master and musical icon Pat Metheny began the Opening Night concert on the International Tennis Hall of Fame stage on a contemplative note, expressively improvising on solo guitar before launching into one of the most inspired sets witnessed by this reviewer. He was backed by a stellar ensemble of celebrated composer/musicians in their own right (Antonio Sanchez, percussion, Grammy Award Winner, Best Soundtrack and Golden Globe nominee for the soundtrack to the Oscar-winning film Birdman in 2014; Malaysian/Australian composer Linda May Han Oh doing a soaring turn on Bass and British pianist and composer Gwilyn Simcock with his surging improvisations). Metheny closed the set with a solo turn on his custom made Pikasso acoustic guitar. He returned to perform the next day on the main stage in driving rain, yet he delivered an electrifying set that rivaled the hurricane level wind and rain with his intensity.