Route 66 Raceway to offer the ultimate trip down memory lane
8/14/2018, 10:56 p.m.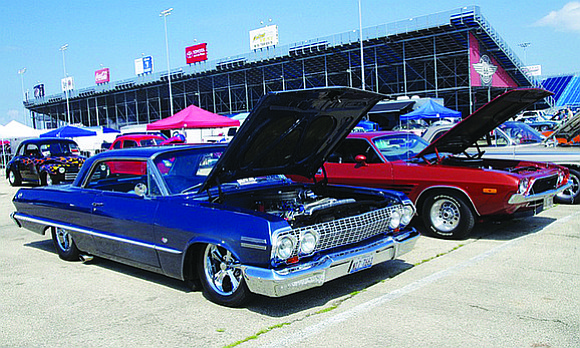 The D'Arcy Buick GMC Route 66 Classic on August 18, 2018 will once again pay homage to the early drag racing and hot rod culture while presenting the ultimate trip down memory lane. Fans will be treated to a blast from the past as they walk through the gates of the World's First True Stadium of Drag Racing and leave the world of 2018 behind perusing vintage-style art, grab a drink at the Sneaky Tiki Bar and grab some grub from the Route 66 Diner.
"We witnessed incredible success with the D'Arcy Buick GMC Route 66 Classic in 2017, highlighted by ideal weather, exciting racing action and unparalleled midway content that only Route 66 Raceway can deliver," said Scott Paddock, President of Route 66 Raceway. "We look forward to building upon that momentum in 2018 with an enhanced spectator displays and supreme racing during the event."
On-Track Content
Unlike any other event at Route 66 Raceway, the D'Arcy Buick GMC Route 66 Classic will solely feature nostalgia match drag racing. This means that Funny Cars, Altereds, Pro Stocks, Super Stocks and over 150 other vehicles, all 1979 and older, will have the chance to take a pass during the event. Tom Motry's Drastic Plastic Nostalgia Nitro Altered Funny Car will face off against John Lawson and the Runaway Nitro Funny Car in a can't-miss battle. Route 66 Raceway will also offer a Runn Tuff Eliminator competition which was made famous at US-30 Dragstrip and Oswego Dragway as well as a Test & Tune. New for 2018, an on-track Cacklefest and the crowning of the new Miss Classic will take place prior to the evening program. Capping off the event will be a jet car finale by Barry Richter's Hypersonic Jet Funny Car.
Classic Car Cruise-In
Last year, Route 66 Raceway witnessed an outpour of vintage vehicles with interest in participating in the Classic Car Cruise-In. To accommodate the number of vehicles
wishing to attend, the Classic Car Cruise-In footprint has been enlarged for 2018.
With an increased Cruise-In parking footprint, Route 66 Raceway is calling all classic car owners to attend the D'Arcy Buick GMC Route 66 Classic and display as a
part of the Classic Car Cruise-In. Attendees who pull up in an antique automobile, 1979 and older, can purchase entry for the event for only $20 between 11 a.m. and 1 p.m.
Miss Classic Pin-Up Contest
The crowd will be privy to the second-annual pin-up contest featuring a flock of lovely ladies who rock the iconic look in hopes of becoming "Miss Classic." Contestants will perform in front of a live audience and panel of judges in two sessions, highlighting both their vintage-inspired fashions and a brief Q&A. The winner will be crowned by 2018 Miss Classic Tonya Maria and receive a substantial prize basket, including beauty and fashion products. As part of the contest, the ladies will be challenged to enter the racer pits and solicit donations benefitting Pits for Patriots. The contestant that earns the most in donations will be crowned the Queen of Hearts.