Community eyes new TIF district
Madhu Mayer, news@thetimesweekly.com | 8/16/2018, 6:01 a.m.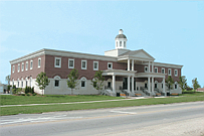 Plans to create a tax increment financing (TIF) district on Route 30 from Renwick Road to I-55 are becoming close to reality.
The Plainfield Village Board back in 2015 authorized the firm S.B. Friedman to conduct a preliminary eligibility study to determine whether the Route 30 corridor from Renwick to I-55 would qualify as a TIF district project area. From this study, there were several things the village and some property owners were required to do before the study could further proceed.
TIF is a public financing method that is used as a subsidy for redevelopment, infrastructure, and other community-improvement projects. The maximum life of a TIF district is 23 years.
When the TIF ends and the town's investments in both public and private redevelopment projects within the TIF redevelopment area are fully repaid, property tax revenues are again shared by all the taxing bodies. All taxing bodies then share the expanded tax base – the growth which would not have been possible without the utilization of tax increment financing.
One of the items that warranted attention included the Drum Farm annexation at the southwest corner of Spangler Road and U.S 30, according to Jake Melrose, economic development manager for the Village of Plainfield. However, that property has since gone into foreclosure.
"The bank that received the property again initiated the steps to move the annexation forward," he said. "However, in 2016, this bank was purchased by another bank which then required a new review of the documents."
Another obstacle was the plat of subdivision for the Boulevard property near I-55. While that plat of subdivision needed to be finalized before the TIF study could move forward, Melrose said the reconstruction project on Route 30 created a difficulty in the platting process and a lengthy review by Illinois Department of Transportation for the new changes.
Since all these issues have since been resolved, Melrose said the next step for the village board is to adopt an ordinance designating a Route 30 TIF redevelopment project area, adoption of tax increment allocation financing and convening a joint review board for taxing jurisdictions in the proposed TIF district, which were all granted Monday. Such a meeting has been scheduled for 2 p.m. Friday, Aug. 24, at Plainfield Village Hall, 24401 W. Lockport St.
A public hearing for the proposed Route 30 TIF corridor has been scheduled for 7 p.m. during the Monday, Oct. 1, village board meeting.
Village trustee Ed O'Rourke asked if other taxing bodies are aware of the village's intentions and Melrose said those entities know the local government is moving forward with the redevelopment project.