CHICKEN PESTO PASTA WITH MUSHROOMS
8/21/2018, noon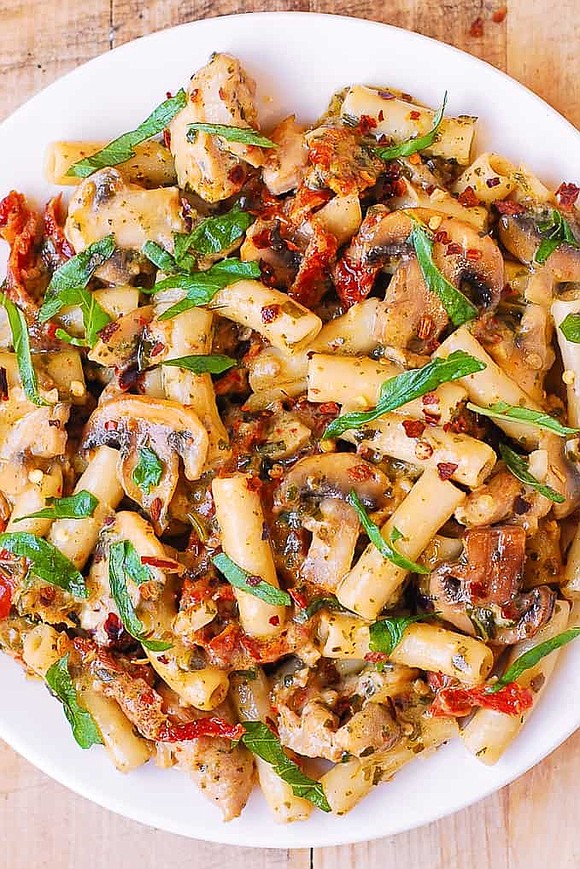 Servings: 4 / Total Time
30 mins
Ingredients
• 1 tablespoon olive oil
• 1/2 lb chicken thighs , boneless, skinless, chopped
• 1/4 cup sun-dried tomatoes , drained of most oil, chopped
• 1/4 teaspoon red pepper flakes
• 4 oz mushrooms , sliced
• 3 garlic cloves , minced
• 1/2 cup basil pesto
• 1 cup milk
• 1/4 teaspoon salt and more
• 8 ounces penne pasta
• fresh basil chopped
Directions
Heat olive oil in a large skillet on medium heat. Add chicken (chopped up) with sun-dried tomatoes (chopped into smaller bites) to the skillet, sprinkle with red pepper flakes. Saute for about 1 minute on medium heat.

Add sliced mushrooms (add another 1 tablespoon olive oil if needed) and saute for about 2 more minutes (or a little bit more), until chicken is cooked through and mushrooms are softened.

Add garlic, basil pesto, milk, and 1/4 teaspoon of salt. Bring to boil, immediately reduce to simmer and simmer, stirring until everything is well combined. Remove from heat. Taste, and add more salt, if needed.

Cook pasta according to package instructions. Drain. Add cooked pasta to the sauce, reheat.

Top with chopped fresh basil.