Connor Bill to help identify human remains now law
8/21/2018, 10:09 p.m.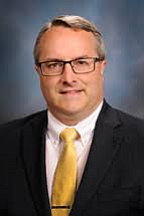 Lockport - Legislation passed by state Rep. John Connor, D-Lockport, to ensure that coroners and medical examiners send DNA and other investigative information from unidentified human remains to the National Missing and Unidentified Persons System (NamUs) in order to identify remains more quickly and accurately was signed into law by Gov. Bruce Rauner on Friday.
"Not every coroner or police department in the state submits DNA samples and reports from unidentified bodies to the NamUs database, even though it is free and federally funded," Connor said. "Making sure that coroners and law enforcement work together to collect and send DNA evidence to NamUs will help identify missing persons who have passed away more promptly and accurately, providing closure to their families much sooner."
Connor's House Bill 4348 provides that all coroners and law enforcement in the state must coordinate to attempt to identify human remains by submitting evidence including DNA, photos, X-rays and other information gathered from the deceased to NamUs for advanced processing. This will also allow DNA samples to be profiled in a laboratory at the University of North Texas, where technicians will use mitochondrial DNA testing equipment currently unavailable in Illinois.
The measure passed the House in April 2018 and was signed into law by Gov. Rauner on Friday.
"With greater participation, this national network of unidentified remains will become more comprehensive and beneficial to those working to find missing persons," Connor said. "As a former prosecutor, I know that improving this database will help bring much-needed closure to more families who are missing loved ones."
For more information on this legislation, please contact Connor's constituent service office at 815-372-0085 or RepConnor@gmail.com.