2018 Volvo XC60 T6 AWD Inscription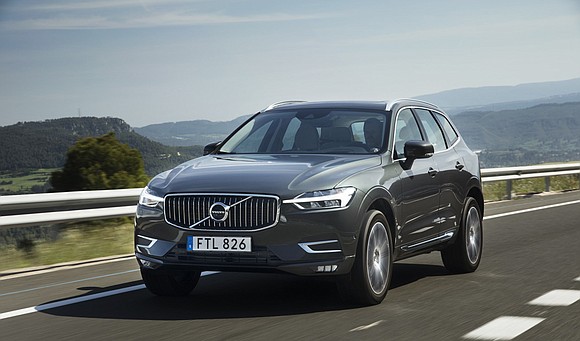 I turned onto McNichols Street headed west quicker than I should have. A minivan coming my way was just too close, about a half block away, but I did it anyway. That's because I knew my 2018 Volvo XC60 could get from a standstill to out of harm's way quickly. With just a little prompting from me, the Swedish crossover was approaching 50 mph before I reached the next block.
That's what the Volvo XC60 T6 can do. In fact any Volvo with the T6 designation has a 2.0-liter four cylinder engine that is equipped with both supercharger and turbocharger. This combination of blowers produces 316 horsepower and 295 pound feet of torque at a relatively low 2,200 rpm.
Mated to an eight-speed automatic transmission with manual shift capability, this engine got 21 mpg in the city, 27 mpg on the highway and 23 mpg combined. I found the T6 engine to be a formidable piece of technology. It certainly can get up and go but it has civil low-speed manners.
Volvo still prefers to label itself as a premium brand but it has creeped into the ranks of luxury vehicles. My only question is how long it will take the car buying public to realize that. Many years ago a designer told me that the way you convey luxury in an automobile is through the interior.
In the case of the XC60, Volvo has resorted to interior lines and material that rival any concept car. The leather covered seats were thin and supportive. There was plenty of wood, in this case it was driftwood and the metal bezels were understated and framed the instruments nicely.
The all-wheel-drive system was front wheeled biased, sending 95 percent of the torque to the front. However, when slippage was detected it could send more torque to the rear and adjust it side-to-side.
There were four drive modes: Eco, Comfort, Off-road and Dynamic. Because it was an Inscription model, this XC60 was several millimeters higher than a regular XC, though I have no clue why anyone would take an XC60 off road.
I did switch into Dynamic mode and the XC60 got a lot more aggressive. The accelerator and steering seemed to react a lot quicker to my input. But it was more of a nuisance to me so I switched back to Comfort and pretty much left it there for the remainder of the week-long test drive.
The XC was smooth, it was quiet and it was quick. It was comfortable too. Lumbar supports for the back, bladders for the sides and a seat extender for the lower legs made the XC60 extremely comfortable.
About the only thing I didn't like was the programming of some of the equipment. For instance, turn on the heated steering wheel or heated front seats and they stayed on, even when the XC60 was turned off and then restarted. However, every time I turned off the auto stop and turned off the vehicle, I had to turn it off again when I restarted the car. My first thought was why did they program it to do that?