2018 Toyota C-HR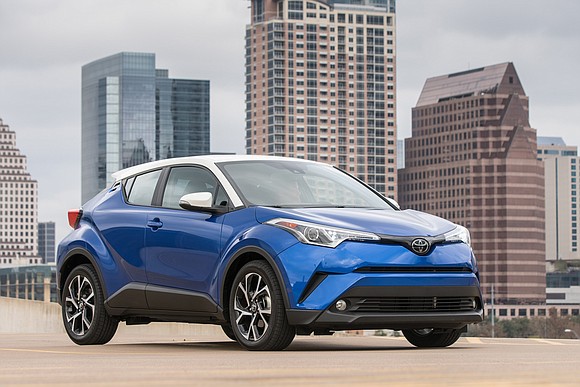 Smooth, really smooth is what I first thought of Toyota's C-HR. And after one week of test driving, my opinion did not change.
This small crossover from Toyota had a 2.0 liter four-cylinder engine under the hood that made 144 horsepower and 139 pound-feet of torque. It was mated to an all-new continuously variable transmission with a new belt structure to reduce cabin noise.
This CVT could be put in sport mode and it could simulate a 7-speed transmission. This mode increased responsiveness of the throttle, quickened the CVT's automatic artificial "step-up" shifts, and maintained high engine speed to enhance acceleration. The EPS' feedback was weightier for a more confidence-inspiring feel. Pushing the gearshift over to the left while in Drive engaged sequential shiftmatic, and let drivers shift simulated gears at their convenience.
That's what Toyota said. I have no idea whether it can do that since I didn't try it. But I can attest to the quietness of this transmission and the engine. Heck, I didn't realize that this car had a CVT until I intently listened for it to change gears.
The 2018 Toyota C-HR had some pep. It was very maneuverable; a couple of times I was able to make complete U-turns that surprised me. Acceleration was good, so was braking. The fact I keep calling it a car is testament to its handling and ride which were car-like.
The 2018 Toyota C-HR had an EPA fuel rating of 27 mpg in the city, 31 mpg on the highway and 29 mpg combined.
This crossover looked good. A young woman pulled up next to me, rolled down her window and asked me what it was. The C-HR was so snazzy that it caught her attention as she pulled up behind it.
As Toyota said in its press material, the C-HR was sexy, muscular and edgy. It had two slim projector-beam halogen headlamps with LED daytime running lights (DRL) and auto-on/off activation wrapped deep into its shoulders – nearly all the way into the front quarter panels. That made it look wider.
The dimensions were width (70.7 in.), height (61.6 in), length (171.2 in.), and wheelbase (103.9 in.) – that can best be described as compact and neat. Its front and rear tracks match that of Toyota's diehard sports car, the 86, at 60.6 inches.
Deep, curvy character lines emerged from a prominent Toyota badge that was flanked by the headlamps, and led into the narrower core body. They ran below the slender windows, and continued above the rear wheel where they married into a high beltline and distinctive C-Pillar with hidden-type design door handle. I thought the door handles were particularly stylish.
The rear was a cohesive balance of sharp lines and 3D shapes. The tail lamps protruded outward, and the hatchback – outfitted with a lip spoiler and functional color-matched cantilevered wing – tapered inboard. This futuristic look was probably what caught that young lady's attention.
Toyota's aerodynamicists gave the C-HR a 0.34 coefficient of drag. Canards on the rear quarter panels, front and rear spats, a streamlined rear lower bumper, and stabilizing fins integrated into the taillights all managed critical airflow in and around the body.