Wine of the Week: Raimat Family Vineyards Rosada Rose 2017 – Organic wine from Spain $16.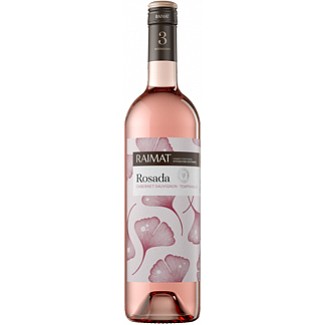 One of the great bargains of the season is Raimat Family Vineyards Rosada Rose 2017. It's a dry organic wine from Spain that sells for only $16.80 a bottle. The wine is a light-bodied blend of two red grapes that have been crushed with only minimal skin contact to create a delightfully delicate pink color. 55% Cabernet Sauvignon and 45% native Tempranillo is the blend and with a relatively low 12% alcohol content, it has achieved that perfect balance of fresh fruit flavor; think ripe raspberries and hints of lime and tangerine notes that give it just the right amount of tingle on the palate. This is a great wine for summer salads and seafood.
Many Americans are turned off with the prospect of drinking Rose wines, but they're extremely popular in Europe and are drunk there on a daily basis because of their versatility and broad appeal. Rose wines, particularly dry ones, can go with just about anything, from sushi to lightly grilled meats. Shrimp or crab salad or lobster rolls with homemade mayonnaise are the perfect pairings, as are grilled salmon or chicken bathed in tarragon sauce. A lemon tart or fresh fruit sorbet makes for some exquisite dessert pairings. For just under $20 a bottle, you can afford to experiment!