Cherry Chewbilees
8/31/2018, noon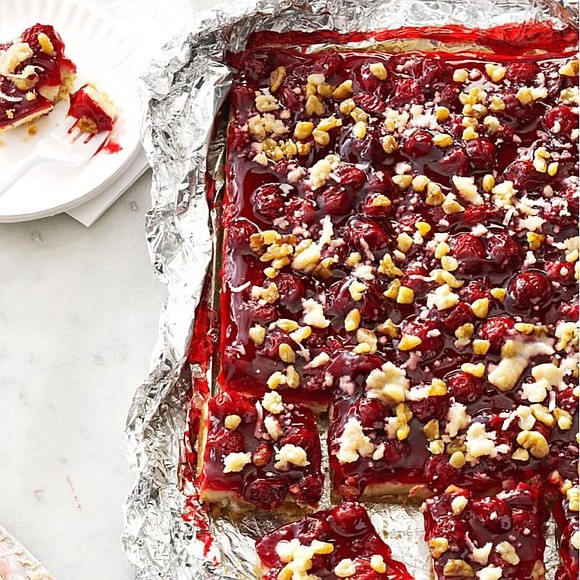 Servings: 20 / Total Time: 30 min.
Ingredients
• 1-1/4 cups all-purpose flour
• 1/2 cup packed brown sugar
• 1/2 cup butter-flavored shortening
• 1 cup chopped walnuts, divided
• 1/2 cup sweetened shredded coconut
• FILLING:
• 2 packages (8 ounces each) cream cheese, softened
• 2/3 cup sugar
• 2 large eggs
• 2 teaspoons vanilla extract
• 2 cans (21 ounces each) cherry pie filling
Directions
• Preheat oven to 350°. Line a 13x9-in. baking pan with foil, letting ends extend up sides; grease foil.
• Combine flour and brown sugar; cut in shortening until fine crumbs form. Stir in 1/2 cup nuts and coconut. Set aside 1/2 cup crumb mixture for topping. Press remaining mixture into prepared pan. Bake until lightly browned, 12-15 minutes.
• Meanwhile, for filling, beat cream cheese, sugar, eggs and vanilla until smooth. Spread over hot crust. Bake 15 minutes. Spread pie filling on top. Combine remaining nuts and reserved crumbs; sprinkle over cherries. Bake 15 minutes more. Cool. Lifting with foil, remove mixture from pan. Cut into bars. Refrigerate.