"Operation Santa Drop" reaches new holiday level
Care Packages for Six Different Overseas Military Units, 107 boxes, 16-thousand items
12/4/2018, 7:37 p.m.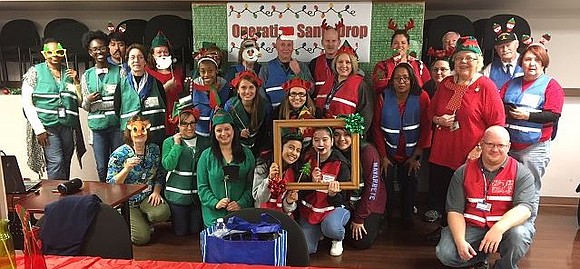 The Will County Health Department, for the third consecutive year, was the site of "Operation Santa Drop." This effort to send holiday care packages to military units serving overseas has grown from one adopted unit in 2016, to three units in 2017, to six units for the 2018 holiday season.
The Stickney Public Health District out of Cook County once again co-hosted with effort with the Will County Health Department's Emergency Preparation and Response team. Also involved were members of the WCHD Medical Reserve Corps volunteer team, participants from the Joliet West High School HOSA Health Occupations Students, and participants from surrounding county health departments (Cook, DuPage, DeKalb, Kane, Kendall, Skokie Township).
The complete "exercise operation" of organizing and packing over 16-thousand donated non-perishable food items, toiletries, and fun items took place Saturday morning December 1st in the Will County Health Department Community Room. The items will now be shipped to overseas military units serving in Bahrain, Afghanistan, Japan, Kuwait, and a Naval Ship in the South China Sea. Unlike last year, enough funding for postage had already been donated by the day of the exercise, allowing the packages to be shipped as soon as possible.