Joliet Junior College professor brings home medal from Culinary World Cup
12/12/2018, 3:45 p.m.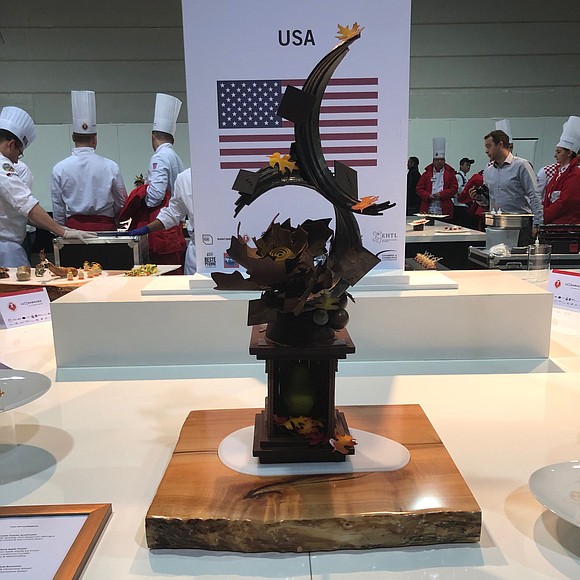 Joliet Junior College professor brings home medal from Culinary World Cup
Chef Andy Chlebana, one of nine to compete for Team USA, spent 10 days in Luxembourg for the competition.
While the Culinary World Cup typically requires months of preparation, Chlebana had just six weeks, substituting in late for another team member. He was able to enlist some help practicing from JJC culinary arts students Genna Shaw, Milla Lcheck and Nina DeBoer before he left.
The first portion of the competition was the cold buffet table presentation. It consisted of a variety of six desserts, petits fours and a chocolate showpiece. Chlebana says that cold food presentation is extremely detailed work and the judges score you on perfection. Points will be deducted for anything that is out of place. It is for show only and competitors must create food that looks edible but can sit on a display table for up to four hours without deteriorating in look and quality.
"The crazy part about cold food is that you are awake through the entire night before perfecting your plates and completing any last minute projects. Then we head back to the hotel, sleep a little and start preparing for the hot kitchen," said Chlebana.
The hot kitchen segment of the competition consists of a three course menu with 110 portions each. During this assignment the team had to prepare their food under the watchful eye of the judges for six hours and were given three hours to serve the food.
The team took home silver medals in both competitions, one for the hot kitchen and one for the cold food table. There were about 30 other countries competing.
Chlebana says he enjoys competing and is able to bring a lot of experience back to share with his students.
"The greatest benefit for me is that I learn during the process and can bring some of the tricks and techniques into my classes. The students enjoy hearing the stories I get to share with them. I also share the challenges that I faced in my preparations and during the competition and how I was able to overcome them."