SOFT-BAKED CAKE BATTER COOKIES
12/12/2018, noon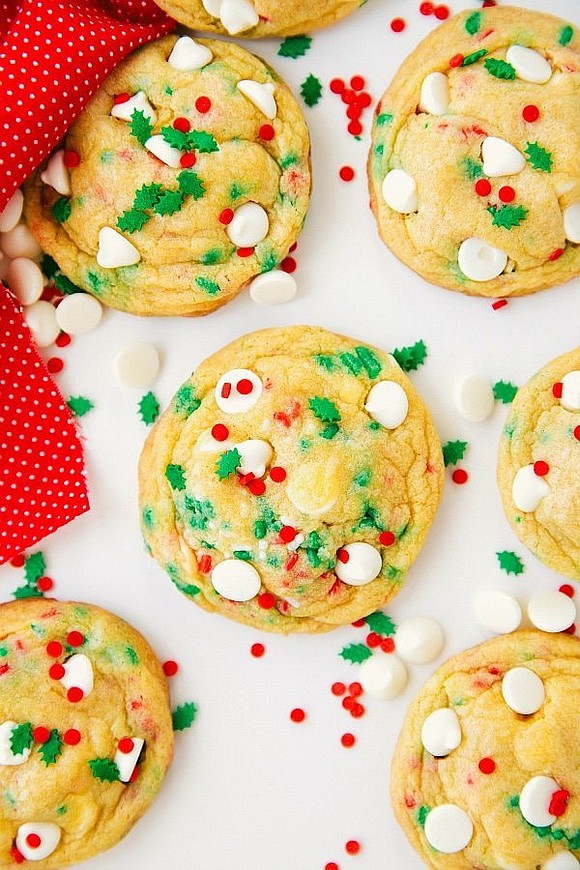 Servings: 2 dozen / Total Time: 25 mins
Ingredients
• 3/4 cup (1 and 1/2 sticks) unsalted butter cold
• 1/4 cup white sugar
• 3/4 cup light brown sugar lightly packed
• 2 large eggs
• 1/2 tablespoon vanilla extract
• 1/4 teaspoon imitation butter extract optional (gives a stronger cake flavor)
• 1 package (5.1 ounces) family-sized instant vanilla pudding mix dry, not prepared
• 3/4 cup yellow cake mix dry
• 1 and 1/2 cups white all purpose flour
• 3/4 teaspoon baking soda
• 1/2 cup sprinkles
• 1 cup chocolate chips (white, milk, semi-sweet, or dark, OR a mix of a few different kinds)
DIRECTIONS
Preheat the oven to 350 degrees F. Line a baking sheet with parchment paper or a baking liner.

In a large bowl, beat together the butter, brown sugar, and white sugar. (TIP: The butter should not be melted AT all or these cookies will spread a lot. Try to keep it as cool as possible while still being able to beat it with the sugars.)

Beat until light and creamy.

Add in the eggs, one at a time, beating after each addition.

Beat in the vanilla extract and imitation butter extract.

Add in the pudding mix and cake mix. Beat and then scrape down the sides with a spatula.

Add in the flour and baking soda. Beat. The mixture gets super thick so you will likely need to mix with a wooden spoon. It is supposed to be very thick.

Stir in the sprinkles and chocolate chips. You may need to knead these add-in's a bit with your hands because of how thick the dough is.

Form cookie dough balls (see video for shape I roll the balls into) that are about 1.5 ounces in size.

Place no more than 9 cookie dough balls per cookie sheet to give ample room for the cookies.

Bake for 8-10 minutes or until lightly browned at the edges and still soft (slightly under-baked in the center).

Remove from the oven and allow to continue to "cook" on the cookie sheet for another 3-4 minutes. While they are on the cookie sheet I add in a few more chocolate chips and sprinkles just to make them look pretty. This is, of course, optional.

If you want to chill the dough (I like it chilled for a slightly different texture and better flavor (ingredients meld and become richer), chill the dough covered for at least 30 minutes to 2 hours). Roll the balls and place on a cookie sheet. With cold dough, these cook for a bit longer -- closer to 12-15 minutes. Every oven is different though so mainly watch for a slight browning at the edges and bottom of the cookies.

Store cooled cookies in an airtight container.