Silver Oaks Behavioral Hospital grand opening and ribbon-cutting
12/14/2018, 10:41 a.m.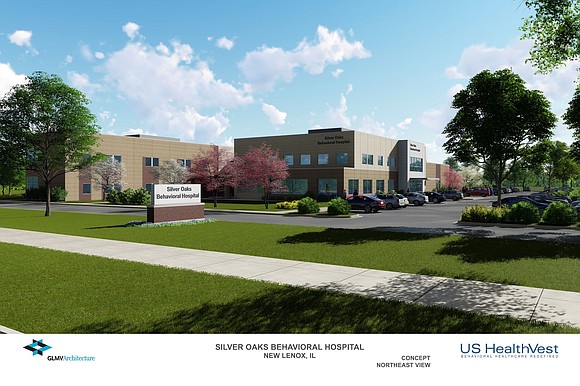 Thetimesweekly.com
Several hundred guests, including community leaders, legislators and media, attended the Dec. 13 grand opening celebration and ribbon-cutting ceremony for Silver Oaks Behavioral Hospital, a new 100-bed freestanding behavioral health hospital on the campus of Silver Cross Hospital in New Lenox. The event featured former Chicago Bears quarterback and Super Bowl champion Jim McMahon, who spoke about his struggles and experiences with depression following a successful 15-year career in the NFL.
"With the completion of this facility, we hope to provide resources to individuals, family members, friends, and the community at large for addressing mental health conditions and improving quality of life," said Silver Oaks CEO Scott Hullinger. "For those of you who aren't aware, more than 1,000 Illinoisans die each year by suicide. For every completed adult suicide, there are an estimated 25 attempts; those rates continue to rise with each passing year. These numbers are staggering and represent one of the many reasons this facility was built."
One in four Americans today experience behavioral health difficulties, yet only half seek treatment. Without treatment, these problems can affect relationships, performance at work or school, or even the ability to complete everyday tasks and functions.
"Silver Cross is dedicated to meeting the mental health and substance abuse needs in this community," said Ruth Colby, President and CEO of Silver Cross Hospital. "The leaders of this village and county care deeply about the quality of life for the people who reside here. With our partner, US HealthVest, Silver Oaks will provide expert mental health and substance abuse services for everyone who needs it."
Silver Oaks Behavioral Hospital, a joint venture between US HealthVest and Silver Cross Hospital, will provide specialized acute care for behavioral health and addiction treatment. Using evidence-based behavioral health services, Silver Oaks will offer inpatient, day hospital and intensive outpatient programs. As a community service, the hospital will provide mental health assessments 24/7 at no charge.
Silver Oaks will provide treatment for a full range of mental health disorders, including anxiety disorder; bipolar disorder/manic bipolar disorder; depression; substance use (alcohol, illegal drugs and the improper use of prescription or over-the-counter medications; post-traumatic stress disorder; and psychological trauma and abuse.
"At Silver Oaks, our goal is to provide the highest level of professional care for our patients in a welcoming environment that allows them to heal," Hullinger added.
US HealthVest has a proven track record of working with existing medical providers to expand psychiatric and substance abuse services and access to care. US HealthVest operates Chicago Behavioral Hospital, a 138-bed psychiatric hospital in Des Plaines, Ill.; Lake Behavioral Hospital in Waukegan; two psychiatric hospitals in the greater Atlanta area; and a psychiatric hospital near Seattle.
"We have a common interest in that we accept all patients without regard to insurance or lack of insurance," said Dr. Richard Kresch, psychiatrist and President and CEO of US HealthVest. "So no patient in need of care, who meets admission criteria, will ever be turned away from this hospital."
Dire Need for Mental Health Services