Walmart gives more than $22 million to area charities
12/18/2018, 10:14 p.m.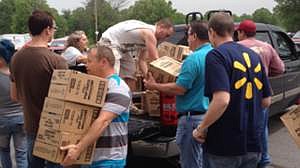 As part of their mission to use their strengths to make a difference, Walmart and the Walmart Foundation announce they have donated more than $22 million in cash and in-kind contributions to non-profit organizations throughout Chicagoland during FY18. This amount is part of the more than $36.9 million donated to nonprofits statewide.
Walmart is uniquely positioned to support organizations that create opportunities for people to live better. These donations support Chicago area programs focused on workforce development, disaster preparedness, healthy eating and hunger relief.
Walmart's Contributions in Chicagoland: During FY18, Walmart donated more than 12.6 million pounds of food to Chicago-area food banks and hunger relief organizations, which is the equivalent of 10.5 million meals.
In addition, Walmart encourages associates to get involved with charitable organizations that matter to them, their families and the communities they serve.
Chicagoland Walmart associates performed 3,749 hours of volunteer service in their communities throughout FY18.
"Helping people live better is about more than a customer's experience in our stores, it's about the impact we make in the communities we serve," said Walmart Vice President and Regional General Manager Dale Murphy. "We're dedicated to our neighbors and we're proud to support so many great organizations, not only in Chicagoland, but across Illinois."