Maple Mustard Roasted Turkey Thighs
12/20/2018, 11 a.m.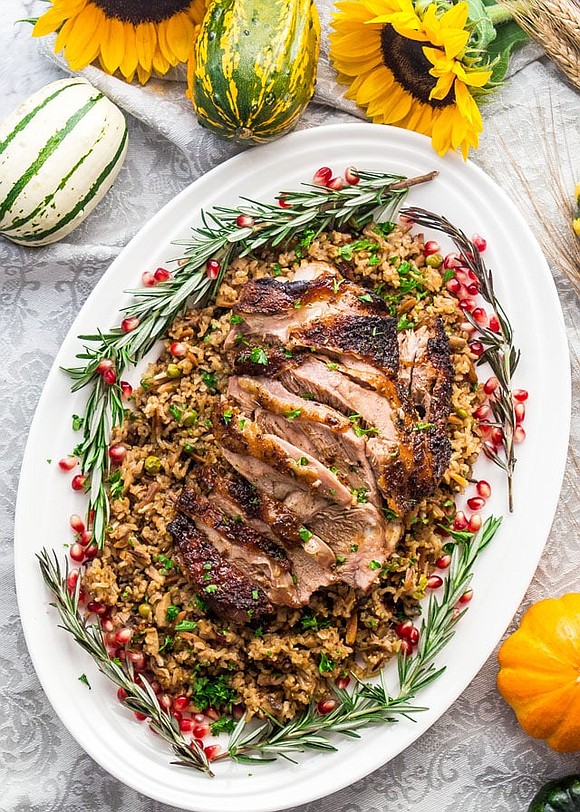 Servings: 4 / Total Time: 2:20 mins
INGREDIENTS
• 1/2 cup butter unsalted
• 1 tsp rosemary fresh, chopped
• 1 tsp thyme fresh, chopped
• 1 tbsp smoked paprika
• 2 tbsp dijon mustard
• 1/2 cup maple syrup
• 2 turkey thighs bone in w/ skin, washed and dried (about 2-3 lb)
• 1 tsp salt
• 1/2 tsp pepper
• 1 cup water
• 1 large onion chopped
• 5 stalks celery chopped
• 5 carrots chopped
• 4 sprigs rosemary
• 2 sprigs thyme
DIRECTIONS
Preheat your oven to 350F.

In a small sauce pan add the butter and melt over medium high heat. Add the rosemary, thyme, smoked paprika, dijon mustard, maple syrup and stir. Bring to a boil then remove from heat.

Score the skin of the turkey thighs. Season your turkey thighs with salt and pepper. Pour about 3/4 of the maple/mustard mixture over the thighs and toss.

Add the water to a roasting pan, then add the onion, celery, carrots, rosemary, and thyme. Place a roasting rack in the pan.

Place the turkey thighs, skin side up, on the rack and brush with remaining maple/mustard glaze.

Roast for 2 hours or until the internal temperature reads 175-180F, basting every 30 minutes with the juices from the pan.

Remove from the oven and cover the thighs with aluminum foil. Let them rest for 10 minutes before slicing them.