Joliet Township High School diversity statement
12/25/2018, 11:20 p.m.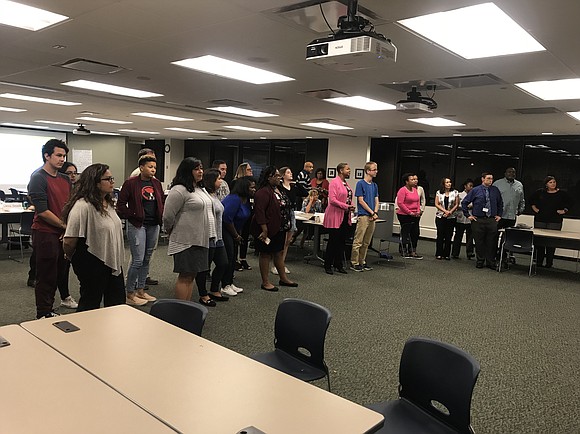 theimesweekly.com
Joliet Township High School District 204 is announcing its district-wide diversity statement, developed by a variety of stakeholders in the JTHS Strategy 6.2 Family & Community Committee. The 6.2 Family and Community Committee is comprised of parents, students, staff, community members, and Board of Education representation. Throughout the year, these dedicated committee members worked collaboratively to aggressively build relationships between District 204 families
and staff in order to enhance the educational experience of all students.
The district's Strategy 6.2 Family and Community Committee met several times during the 2018 fall semester to craft the robust diversity statement under the facilitation of Troy Cicero from MulticultuReal Communications. The statement was developed to send a welcoming message to families of all backgrounds while creating an accountability standard for all faculty, staff, and administration.
The Joliet Township High School Diversity Statement reads, "Joliet Township High School District 204 is committed to cultivating an inclusive community that values and embraces diversity and respects the humanity of all people."
Committee Members Samuel Munson, Jamila Cage and Wanda Turner presented the statement to the Board of Education at the December 18 meeting where the statement was unanimously approved.
"I am extremely proud of the work completed by the committee," said Joliet Township High School Superintendent Dr. Cheryl McCarthy. "The statement is more than just words on paper. It is a living document that symbolizes our appreciation of individual differences and the establishment of a school climate that hears, sees, values and respects all students."
The Strategy 6.2 Family & Community Committee membership includes Roberto Avila, Janet Avila, Luvenia Betts, Jamila Cage, Martha Cardenas, Tara Cicero, Mike Clark, Judy Easley, Frank Edmon Jr., Teresa Gibson, Isabel Gloria, Juan Gloria, Karla Guseman, Lisa Guzman, Karen Harkin, Shad Hallihan, Erica Holmes, Thomas Jones, Jonetta Knight, Karla Manzo, Cheryl McCarthy, Brett Marcum, Ben McCune, Jeff McCune, Sam Munson, Adesowa Imafidon, Matt Narducci, Chris Olson, Ellie Papandria, Alicia Rojas, Jose Luis Sanchez, Kristine Schlismann, Lisa Simmons, Wanda Turner, Angela Vasquez, and Cathy Wells.