Shorewood Lions Club Troy 30-C Nov. Students of the Month
12/25/2018, 11:24 p.m.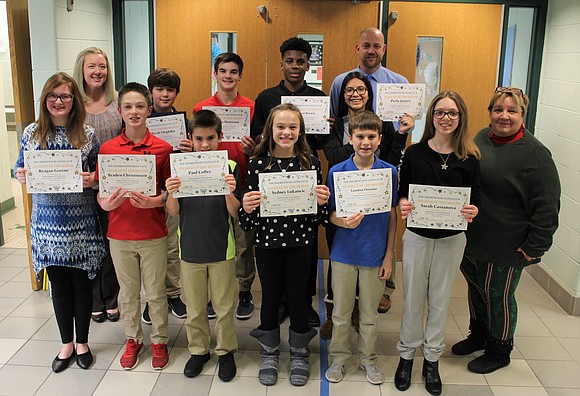 The Shorewood Lions Club recognized Troy Community School District 30-C 2018 November Students of the Month at the school district's December school board meeting.
The Students of the Month are William B. Orenic Intermediate School 6th graders Paul Coffey, Karina Hernandez, Micah Ongkiko and Landon Oostema..
Troy Middle School 7th grade Students of the Month are Sarah Casanova, Braden Christensen, Reagan Greene and Sydney Lukancic. Eighth grade Students of the Month are Aaron Brown, Perla Juarez, Ethan Mattison and Nicole Pieklo.
Lions Club President Noelle Viola said the students were selected by an advisory team on the basis of consistent effort, productive citizenship, positive attitude and participation in class.
In addition to certificates from the Shorewood Lions Club, the students received Amazon gift cards from the organization.
The Shorewood Lions Club helps needy persons in Troy Township who have sight or hearing problem get glasses, hearing aids and other related equipment, including seeing eye dogs. They also help sight- or hearing-impaired children sign up for Camp Lions in the summer. The club meets at the Joliet Elks Lodge the 2nd Wednesdays of each month at 6:30 p.m. Visitors are welcome.