Nearly $650,000 Award for the University of St. Francis
12/26/2018, 6 a.m.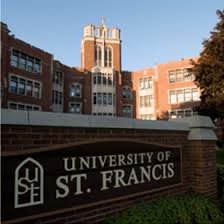 The University of St. Francis will receive an award from the National Science Foundation (NSF) in the amount of $649,677, said Congressman Bill Foster (D-IL). The funding will be provided through the NSF's Scholarships in Science, Technology, Engineering, and Mathematics (S-STEM) program will help support the university with retention and graduation of high-achieving, low-income students with demonstrated financial need.

Scholarships will be provided to 12 students from local high schools that are pursuing bachelor's degrees in biology and biochemistry at the University of St. Francis.
"This grant begins another chapter in USF's long history of success in the STEM fields," said USF President Arvid Johnson. "We have invested heavily in these fields, as recently demonstrated in our new LaVerne and Dorothy Brown Science Hall, which opened this past February. This grant, coupled with our new, state-of-the-art science hall, will help USF to recruit and educate excellent STEM teachers and researchers from our community, who will be prepared to contribute to our world through service and leadership."