Wine of the Week: Binny's serves up a Holiday Champagne Showcase Just in time for the New Year!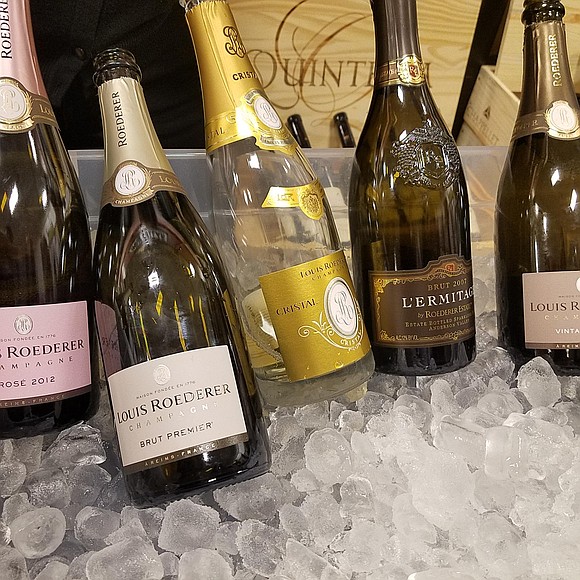 Binny's Beverage Depot was the scene of one of the Chicago area's most opulent Champagne gala. Champagne producers, from France's largest and most prestigious houses, to small "Grand Marque" producers were among the more than 50 types offered for sampling.
The annual event, to be duplicated at Binny's throughout the Chicagoland area, brought out oenophiles and Champagne aficionados from far and wide. Among the many treasures sampled were Dom Perignon 2009 ($159.00 SRP) and Moet and Chandon 2009 ($64.99 SRP). While representing the same vintage years, the two could not be more different. The Dom Perignon is light and somewhat restrained. For those who want to stay away from the sharp mineral overtones found in many dry (read Brut) Champagnes, this may be the one for you if price is no object. Dom delivers with an abundance of ripe citrus on the nose with a smattering of more complex lemon custard, warm apple pie made with tart green apples and hints of honeycomb and ginger.
The mineral notes translate into a nice acidity that, combined with the citrus fruit, makes for a nice creamy sensation in the mouth. People tend to say that Dom asks a high price for so little punch. But that's not what this one is about. Take your time and focus on the subtleties. You'll find the experience more than rewarding. Moet and Chandon 2009 is considerably easier on the pocketbook, but no less laden with its own hidden treasures.
The first impression is of the string of small, persistent bubbles, known as perlage, which gives the vintage instant eye appeal. Follow that with a walk through an orchard of fresh peaches and apricots and the gentle aroma of budding rose petals and a delicate perfume of light cinnamon with orange flower honey and an aftertaste of warm brioche bread and you have the taste of Moet 2009 in a nutshell. An assiduous blend dominated by Pinot Noir (50%), Chardonnay (36%) and Pinot Meunier (14%) and aged in the cellar for 7 years, this is a testament to the artistry and individuality of the cellar master. For more holiday beverage ideas, visit binnys.com.
Not listed Champagnes offered for the day was a stupendous Bolinger Rose 2006, a steal at $125. Don't be deceived by its brilliant Salmon pink color, this has an expressive nose that combines lemon citrus, green apples, brioche and toasted almonds with a nice cushy afterburner of wisps of fireside smoke. Creamy and concentrated, it has just the right amount of lingering sweetness that reminds one of the distant scent of a really expensive perfume. Enticing and enjoyable, it is a beautiful expression of Champagne.
I would be remiss if I did not mention a California Classic, Schramsberg Blanc de Blancs ($34.99), a favorite of the late Julia Child and practically the house Champagne of the late La Francais restaurant in Wheeling, which still holds the mantle to this day, of being the best French-influenced restaurant ever in the Chicagoland area. Chef Roland Liccioni and his wife Mary Beth also created Les Nomades which still exists in an historic brownstone just off Chicago's Magnificent Mile. One of the final wine dinners held at La Francais featured the Davis family presenting their superb sparkling wines paired with Liccioni's exquisite cuisine. It was a memorable evening indeed.