Joliet Township High School news round up
2/7/2018, 9:40 a.m.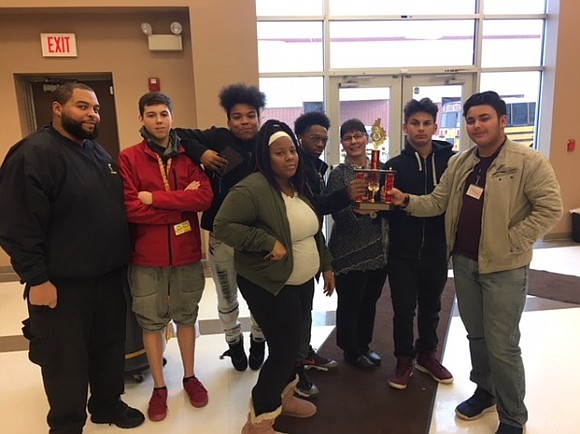 Joliet Central High School Fearless Females Z Club Learns Entrepreneurship During Educational Visit to Persona Grata Joliet Central High School Fearless Females Z Club, the junior chapter of the Zonta Club of Joliet, learned about entrepreneurship during an educational visit to Persona Grata in Shorewood. Salon owner and Zonta member Terri Taylor organized the event, where students gained knowledge of massage therapy, skin and hair care, along with the essentials of business development. Salon employees, including fellow Joliet Zontian Jeanne Paluga spoke about their career journeys and experience.
The JT Alternate High School chess team wins Sportsmanship Award
The Joliet Alternate High School Chess Team attended the CAAEL (Chicago Area Alternative Education League) Chess Tournament and won the Sportsmanship Award.
Joliet Alternate High School had six students attend the tournament competing with students from over eight schools that made it to the tournament.
Sarah Lorenzi, a CAAEL representative, congratulated the chess team from Joliet. Mrs. Lorenzi said how good it was to see a team from Joliet Alternate School participate in their first CAAEL Chess Tournament and to be awarded the Sportsmanship Trophy.
Director of Joliet Alternate High School LaTanya Harris said, "I would like to give a special thanks to the volunteer coach, Nancy Cora, and to Lawrence Rodgers for accompanying her and the students. Without the support and encouragement of their coach, the students would not have been as successful."
4th Annual African American Read-In to be Held February 22 at Joliet Central High School
Joliet Township High School District 204, The National Hook-Up Of Black Women and the Joliet Public Library are proud to present the 4th Annual African American Read-In on February 22. The event will be held from 6 to 8 p.m. in the Joliet Central High School Student Center, 201 E. Jefferson Street in Joliet.
This event is free and members of the public are invited to participate by reading short passages of work by African American authors. Participants can bring work they would like to read or they may choose from selections available at the event.

Separate programming will be available for Elementary School students and includes arts, crafts, activities, and interactive story time.
A soul-food dinner from Gwen Ulmer catering will be available for $5.  
Joliet West High School to Hold Main Entrance Grand Opening February 22
Joliet West High School invites parents, students, alumni and community to a Ribbon Cutting and Grand Opening Ceremony celebrating the school's newly constructed Main Entrance located off Larkin Avenue.

The event will be held from 5 to 6 p.m. on February 22 and includes brief remarks and light refreshments. Student involvement includes the Posting of Colors provided by JROTC, singing of the National Anthem by the Choir, and background music provided by the JTHS Orchestra.

Joliet West High School broke ground on the new 3,523 square foot addition during the 2016-2017 school year. The one story addition was designed to create a welcoming environment while increasing safety and security. The Main Entrance includes a vestibule, waiting area, metal detector and bag check area, two conference rooms, and a Police Liaison Office.