Lemont Artists Guilding hosting water color seminar and anniversary event
2/7/2018, 10:40 a.m.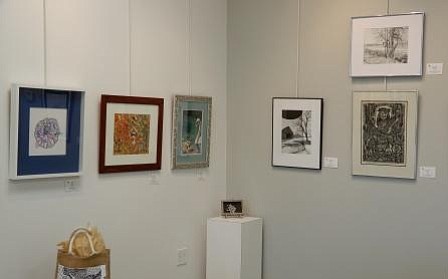 Lemont Artists Guild Watercolor Interactive set for Feb 21.
The February 21st Lemont Artists Guild meeting, will begin at 7 PM at the Homer Township Public Library, 14320 W 151st St, Homer Glen, IL. Cyn O'Brien is a watercolor artist, a drawing and painting instructor and a member of the Transparent Watercolor Society of America. Everyone will feel like an artist leaving with a small finished work of their own as Cyn O'Brien returns to lead this Lemont Artists Guild program by popular demand. Cyn has been a freelance artist specializing in Watercolor Portraits for the past 15 years. She is a long time member of Lemont Artists Guild and has been active in the Homer Glen community, volunteering and working at the schools teaching art workshops. Cyn has opened up her studio for private painting parties and has a special gift for demonstrating and teaching watercolor techniques in a simple step by step format.
Lemont Artists Guild Mission Statement: Our mission is to enhance life in Lemont and surrounding communities by providing fine art education, instruction, programming and appreciation through a supportive environment that nurtures creativity and individuality.
Lemont Artists Guild Members' 25th Anniversary Show gallery reception
The Lemont Artists Guild Members' 25th Anniversary Show is at Lemont Center for the Arts January to February 25, 2018. A reception will be held Sunday, February 11, 2018 from 1:30 pm to 3:30 pm. The Lemont Center of the Arts is at
1243 State Street, Unit 101, Lemont, IL (in the 1st unit just south of Aldi, on the east side of State Street). The website for Lemont Center for the Arts is: https://lemontcenterforthearts.wordpress.com The Lemont Center for the Arts hours are Fridays 12 pm to 4 pm, Saturdays 10 am to 4 pm and Sundays 12 pm to 4 pm.
To celebrate the fact that the Lemont Artists Guild has existed for 25 years, members decided to display their art work at the gallery to share with the public. The exhibit has paintings, photography, fiber and jewelry. Many items are for sale. The Lemont Artists Guild is a place for people to share and learn about many art forms and presently meets on the third Wednesday of the month at the Homer Township Public Library. More information can be found on the guild's website, www.lemontartistsguild.org
The public is welcome to both events and a donation for the local food pantry is appreciated. Parking is free and refreshments will also be served.
For more information call Liz Popp Connelly (815)341-1145 or www.lemontartistsguild.org