New Joliet Metra platform opens Monday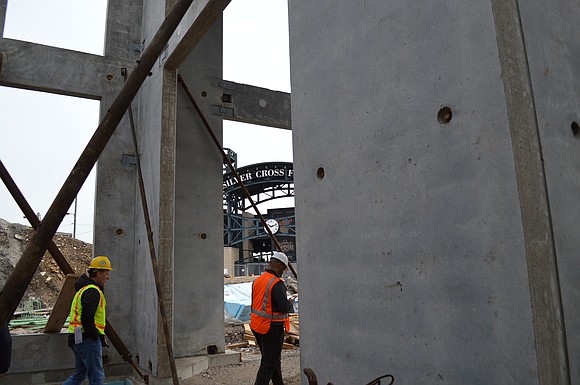 Waiting on the temporary wooden platforms and walking over the tracks to get on a train will be a thing of the past come Monday in Joliet.
That's when the new elevated platform at the new downtown Joliet train station will be open for riders of the Metra Heritage Corridor and Amtrak lines.
City of Joliet civil engineer Lisa Dorothy said that signs will be up on Monday and the old pathways to the temporary wood platforms will be blocked. Dorothy said that Metra will have extra personnel on hand Monday to assist riders and that instructions along with maps to the new entrances will be posted at the old platform entrances, on sidewalk signs, and at pay boxes. Both ticket trailers will still be open and "both ticket agents have all of the info," said Dorothy.
Riders will access the new raised center platforms through two tunnels at the north and south ends.
The southern entrance will be accessed through the new station's portico which leads to the southern tunnel. The north tunnel entrance is located off Mayor Art Schultz Dr. half way between Van Buren and Clinton she said.
Both tunnels lead to stairs or elevators that take riders to the raised platforms between the tracks "so nobody has to walk across tracks anymore in order to board a train," she said.
The changes don't impact any of the Rock Island commuters said Dorothy.
"The new raised center platform has brick pavers and is 8 inches above the rails," she said, "we want to make sure that people know that they don't have to step down and walk across rail road tracks to the old platform."
Final work is also proceeding in the new train station, which Dorothy said should be open by spring. The city received a grant from the state in 2010 to begin the project to replace the former Union Station with a multi-mode transportation hub that eventually will include a Pace bus terminal as well.
Although construction began officially in 2012, the $30 million project has had its ups and downs over the past few years with a construction start that was stymied by shaky state funding and a lack of a state budget for a couple of years.

Questions remain over where the city will find the source of funds needed to complete the Pace bus portion of the facility.
According to a press release from Metra, 1,000 Rock Island Line riders and 400 Heritage Corridor riders embark from Joliet each weekday.
Up to date information and maps of the new entranceways for the downtown train station gateway can be found on the City of Joliet's website, http://cityofjoliet.info/departments/public-works/joliet-gateway-center