Dianne Reeves at Jazz at Lincoln Center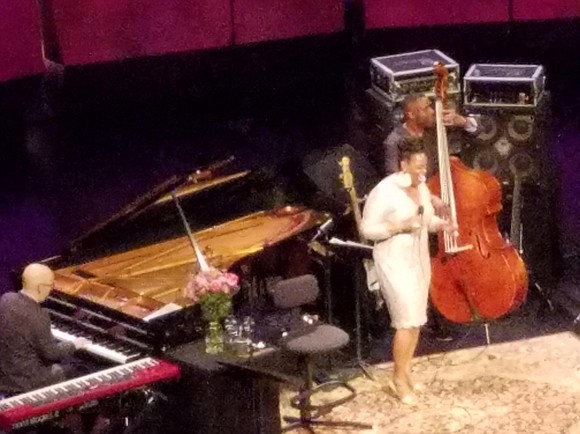 Despite an enthusiastic sellout audience in JALCs acoustically challenged Rose Theatre, Dianne Reeve's highly anticipated Valentine's Weekend concert amounted to nothing more than a truncated exercise in lackluster vocalese. Backed by a stellar roster of musicians, including pianist and Music Director Peter Martin, the sole standout of the evening, the esteemed bassist and heir-apoarent to the great Ray Brown, Reginald Veal, drummer Terreon Gully, who was allowed little more than time keeping duties and Brazilian acoustic guitar master Romero Lubambo, the entire program lacked focus and Reeve's customary energy. Save for "The Twelfth of Never" and perhaps one other tune, there was a marked paucity of love songs for what had been billed as a Valentine's Weekend concert, Even a tepid rendition of Richard Roger's musical anthem "My Funny Valentine" would have been more welcome than Reeve's meaningless vocal meanderings, Wayne Shorter's jazz classic "Infant Eyes" should have been stricken from the program entirely as it maintained intonation problems throughout and was devoid of any real momentum.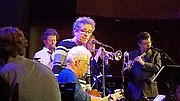 Perhaps the announcementthat the evening's performance would proceed without intermission should have been a warning as Reeves seemed to falter at times and struggle to gain solid vocal footing in the barely one hour prrformance. In all fairness the artist revealed that she had been facing health challenges in recent months so she deserves points for valor but, an audience paying upwards of a hundred dollars and more for tickets is entitled to more. Perhaps a return engagement in a few months when the artist isfully empowered would benefit both audience and performer. The performance by multiple Grammy winning Jobim chronicler and composer Mario Adnet: Jobim Jazz Live with a stellar ensemble next door at DIZZYS CLUB COCA COA was a far more rewarding experience. The Brazilian community was out in full force in a packed house that listened with intense reverence to this master musician and composer's every note. Even Romero Lubambo, who popped over from across the hall after his Dianne Reeves gig, sprang to life while sitting in with his countryman, joyfully showing off his considerable guitar chops.
Upcoming at JALC The Appel Room Dave Douglas: Dizzy Atmosphere Dizzy Gillespie at Zero Gravity Feb 23-24
Visit jazz.org for tickets and information