"Black Panther" stars and creators reflect on its arrival
By Ronda Racha Penrice | 2/14/2018, 8:03 a.m.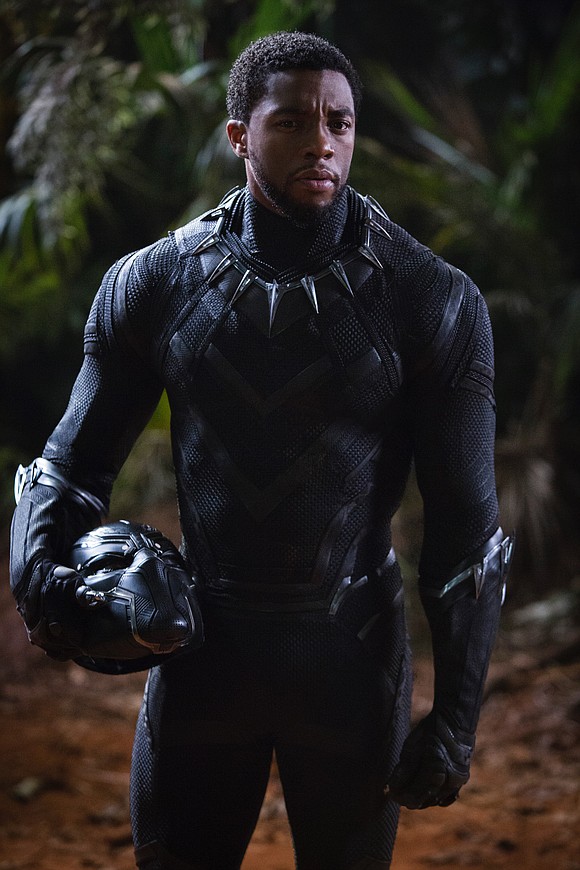 Fans, who bought a record-setting number of advance tickets, weren't the only ones anticipating the Feb. 16 opening of "Black Panther," Marvel's historic first black superhero film.
"I've been waiting a long time. I was just so, so excited because this was a movie [where] we all felt a lot of ownership, that we thoroughly enjoyed making," said Oscar winner Lupita Nyong'o during the film's January 30 press conference at the Montage Beverly Hills the morning after its glitzy purple carpet premiere. Nyong'o plays Nakia, T'Challa/Black Panther's love interest.
Although T'Challa/Black Panther, whose superpowers include speed, strength, night vision, claws and more aided by his country's powerful metal, Vibranium, was first introduced in the "Fantastic Four" comic book series in 1966, months before the founding of the iconic freedom-fighting Black Panther Party, "Black Panther" is the character's first-ever live action film. Reportedly Jack Kirby, who created T'Challa/Black Panther with Stan Lee, took the name from the all-black U.S. Army 761st Tank Battalion of World War II dubbed "the Black Panthers." Chadwick Boseman, well-known for his roles as such real-life heroes as Jackie Robinson and James Brown, is the first to ever play him on film, appearing in 2016's "Captain America: Civil War" to great enthusiasm. He returns in "Avengers: Infinity War" May 4.
"Black Panther" follows T'Challa/Black Panther's journey, in the aftermath of his father's death, to lead his technologically advanced nation, Wakanda, which the world believes is impoverished. Featuring black actors from the United States, England and various parts of Africa, "Black Panther" is the first Marvel film set in a black-ruled nation. As such, the film challenges the negative stereotypes in which the world typically views African nations. It also raises larger questions about what a successful never colonialized African country might look like and what role it would play in today's global landscape.
The film's larger significance was clearly important to Nyong'o and her fellow cast members – who included Boseman, Michael B. Jordan (Erik Killmonger), Forest Whitaker (Zuri), Angela Bassett (T'Challa/Black Panther's stepmother Ramonda), "Get Out" Oscar nominee Daniel Kaluuya (W'Kabi) and more – during the Hollywood press conference where Marvel Studios head Kevin Feige and Ryan Coogler, the film's co-writer and director, were also present.
Jordan, who plays the main villain Erik Killmonger that challenges T'Challa/Black Panther's ascension as Wakanda's king, said he only truly grasped the film's importance after seeing it for the first time at the premiere.
"I couldn't describe that feeling before actually sitting down and watching that film and seeing yourself on screen, not just me personally, but people that look like me in power and having those socially relevant themes but in a movie that you want to sit down and watch and enjoy," Jordan said.
As someone from both the United States and Zimbabwe, Danai Gurira, who plays Okoye, leader of the female warriors known as the Dora Milaje who protect the king, had an even more positive response to the fictional Wakanda and its very real continent. Gurira shared that she appreciated the departure from the usual depictions of African countries as impoverished.
"You see the power and potential of where you're from, but you see how skewed it's viewed by the world and how misrepresented it is and how distorted it is or besieged by the world so often," she said. "["Black Panther" is] kind of a salve to those wounds to see this world brought to life this way and to see all the potential and power of all the different African culturalisms and aspects of our being that's actually celebrated," she said. READ MORE AT thetimesweekly.com –
Rhonda Racha Penrice, Urban News Service