Boys & Girls Club of Joliet unveils second Joliet micro-pantry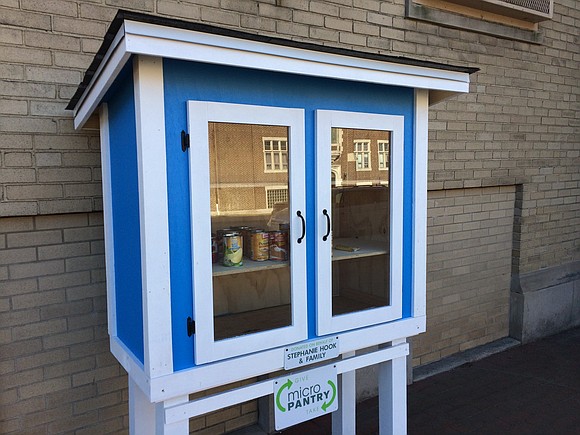 The Boys & Girls Club of Joliet has become the latest site in Joliet with a new micro-pantry.
Sometimes called a "Blessings Box," the small pantry is located at its downtown club location, 226 E Clinton St. near the corner of Eastern Ave.

The pantry operates on the honor system. For people who need food or hygiene products they can help themselves. For anyone who wishes to make a donation, they can help keep the pantry stocked.
The pantry was provided by an anonymous donor who asked Big Brothers and Big Sisters of Will and Grundy County CEO Mike Trafton where he could donate a similar set-up like the one the non-profit has had at its Joliet headquarters at 417 Taylor St. for the past 5 months.
"I knew of the need down there," said Trafton, who took over as CEO of Big Brothers and Big Sisters of Will and Grundy County just over 2 years ago after retiring as Chief of Police for the City of Joliet.
"He was very, very happy to put it down there because he knows of the good work that the Boys and Girls Club does," he said.
Trafton said that the micro-pantry gets used daily at the Big Brothers site, both by people looking for food and for those who are looking to make a donation.
"Every morning I walk by as I come in, and I see someone has filled it and it gives you a good feeling," said Trafton.
Overflow of donations are kept inside, said the former police chief, and the pantry gets restocked by Big Brothers and Big Sisters employees throughout the week.
"I bet you once a week somebody puts food in there and it's pretty amazing," he said.
In his role as police chief and now CEO of a non-profit, Trafton said that he's seen the benefits of providing essentials for people who are looking to feed their families or have fallen on hard times.
"If you can give people an opportunity to get some food they're not stealing from Walmart, they're not stealing from Jewell," he said. "that's a win for everyone."
The micro-pantry trend has grown over the past two years with more of the small food depots popping up around the country. The concept is similar to the Little Free Library movement where small display cases of books are available for people to check out and also are open for donations of reading material as well.
For people who want to donate, the pantries take packaged or canned foods as well as personal hygiene products and diapers said Trafton. If the pantry is full, or someone is worried about the items freezing, he said that donations can also be dropped off inside the Big Brothers and Big Sisters or Boys & Girls Club locations as well.
"I'm glad they're popping up around town," said Trafton, "the more people we can help the better."