Great teachers named at Joliet School Dist. 86
2/14/2018, 7:45 a.m.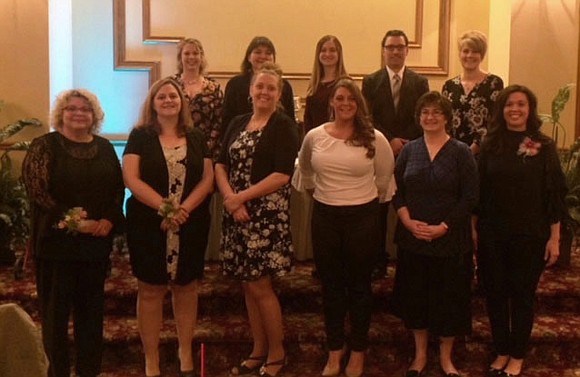 Congratulations to the 11 Joliet Public Schools District 86 teachers who were named 2018 Joliet Area Great Teachers by the Joliet Region Chamber of Commerce & Industry. Twenty-two teachers were recognized at a banquet at the Jacob Henry Mansion Estate. The teachers were nominated by students, parents, colleagues, administrators, and community members.

District 86 recipients were (back row, from left to right): Ashley Hartwell (A.O. Marshall Elementary), Marie Cooper (A.O. Marshall Elementary), Julianne Cipriani (Dirksen Junior High), Kenneth Medo (Farragut Elementary), and Connie Smith (Forest Park Individual Education) (front row, from left to right): Theresa Matejcak (Gompers Junior High), Judy Sidley (Gompers Junior High), Corrien Mateo (Isaac Singleton Elementary), Shanelle Phillips (Taft Elementary), Victoria Kehoe (Washington Junior High & Academy Program), and Jenae Prince (Woodland Elementary). The teachers each received an award, proclamations, and gifts from local businesses.