Plainfield South HS senior performs in state theater fest musical
2/14/2018, 9:38 a.m.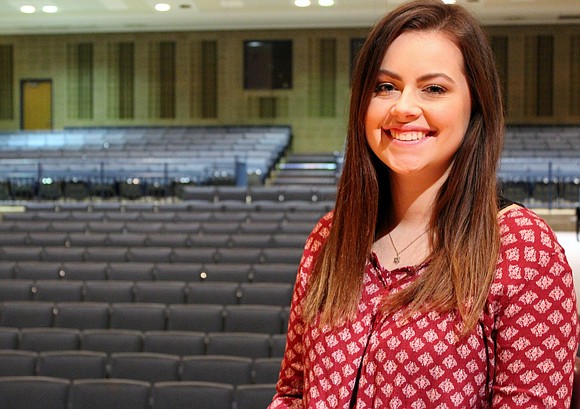 Plainfield –Plainfield South High School senior Natalie Sipes was one of 109 students statewide chosen to perform in the 2018 Illinois High School Theatre Festival's performance of "Big Fish."
She was also the first District 202 student ever to take part in the state theatrical showcase, and the only one chosen this year.
The production, which featured students from 57 Illinois schools was performed at Illinois State University on January 12 and 13, 2018.
More than 300 students auditioned for the musical.
"I just love the theater, I love drama," Sipes said. "It's just fun to be transported somewhere else sometimes."
Sipes played several characters in the "Big Fish" ensemble including the Bearded Lady, a 1950s nurse, wedding guest and as a USO girl in the tap dance routine.
Tim Tholl, who directed Sipes in the 2017 PSHS spring musical, encouraged her and four other PSHS students to audition for "Big Fish." Sipes played a lead role in "The Addams Family" PSHS musical last spring.
"I was over the moon, I cannot explain how amazing it felt," Sipes said of when she learned she earned a spot in the ensemble.
Sipes spent last summer getting to know her fellow cast mates before monthly rehearsals began in August.
The cast rehearsed one weekend a month for about 12 hours every day, Sipes said.
"Those rehearsals really helped show me that not everything is easy and you have to work hard for things," she said.
Brittany Kancauski, German teacher and assistant musical director at PSHS, lauded Sipes' work ethic and talent.
"Natalie is an amazing performer who has continued to push herself not only in theater but also academically," Kancauski said.
"It is amazing when you see students achieve a goal they have worked so hard for."
The state theater festival is the largest and oldest non-competitive high school theater festival in the nation.
Students also get the chance to audition for college theatrical programs and attend workshops at the three-day festival.