Pritzker promises to regain voter trust
By Megann Horstead, Reporter – news@thetimesweekly.com | 2/18/2018, 11:36 a.m.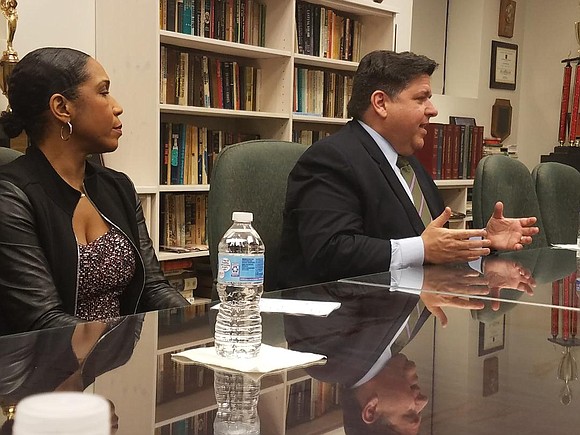 After the recent release of FBI wiretap recordings that paint a less-than-flattering portrayal of him, billionaire gubernatorial candidate, J. B. Pritzker, said he vows to work toward regaining voter trust ahead of next month's primary election.
At a Feb.7 meeting with The Times Weekly in Chicago, Pritzker, along with his running mate Juliana Stratton, cleared the air in the wake of the controversy clouding his campaign.
The recordings reveal the gubernatorial candidate conversing with then-Governor Rod Blagojevich about who he should appoint to fill the U.S. Senate seat vacated by then President-elect Barack Obama in 2008.
One of the conversations caught on tape includes Pritzker discussing the Senate vacancy and the viability of the African American candidates being considered including current Illinois Secretary of State Jesse White, former Illinois State Senator and Senate president Emil Jones, and Obama senior adviser Valerie Jarrett.
In one exchange, Pritzker suggests White would be the best pick for the spot saying "it covers you on the African American thing" adding "he's Senate material in a way that Emil Jones isn't" after which Pritzker describes Jones as "crass."
"The one that's the least offensive and maybe gets you the most 'cause it gets you that secretary of state appointment is Jesse White," said Pritzker.
Pritzker also can be heard on the recording registering his dislike over the possibility of then U.S. Representative Jesse Jackson Jr. being appointed to the Senate seat.
"It would be a nightmare. I hope you don't do that," said Pritzker. The two also joke about the possibility of appointing President Obama's former pastor Rev. Jeremiah Wright.
During the meeting, Pritzker was contrite while also noting that his recollection of the 10-year old conversation is hazy.

"When I listen to it, I must admit that I don't remember [it,]" he said.
"I know I'm better than that, and I have been my whole life. So, I question myself about it, and all I can say is that having not done my best, what I want most of all is to make sure that I do better."
Pritzker dismissed the idea of such conversations taking place regularly in the past but also tried to paint the release of the recordings as a political attack staged by the presumptive Republican candidate for Governor, incumbent Bruce Rauner.
"I think that there is someone, or some organization, that is supportive of Gov. [Bruce] Rauner, that is using the Chicago Tribune, and using these illegally-leaked tapes to damage my campaign because I know that Gov. Rauner views me as his toughest competitor in the general election," Pritzker said, calling for all of the conversations captured with Blagojevich to be released.
"I think it's clear that hundreds of people spoke to the governor at the time, and yet there's only one person whose conversations have been leaked," he said.
Pritzker stands by his statements to deliver on his promises to the African American community and to Will County.
"For decades, communities across this state, especially African-American communities, have suffered from systemic divestment and shut out of equal access to jobs, housing, healthcare, and education," he said noting that as Governor he will focus on job creation, increased access to capital for minority-owned businesses, expand health care and housing access and invest in education.
To do that he said that he plans to enlist the support of people who have first-hand knowledge of the challenges faced in the communities where they exist.
With early voting underway, Pritzker still faces a slate of Democratic candidates in the Mar. 20 primary election, including businessman Chris Kennedy, State Senator Daniel Biss, Madison County Regional School Superintendent Bob Daiber, former director of CeaseFire Tio Hardiman, and physician Robert Marshall.
The top vote getter in the field will either meet Republican challenger Jeanne Ives or incumbent Gov. Bruce Rauner in the Nov. 6 general election.