Early voting begins in Will County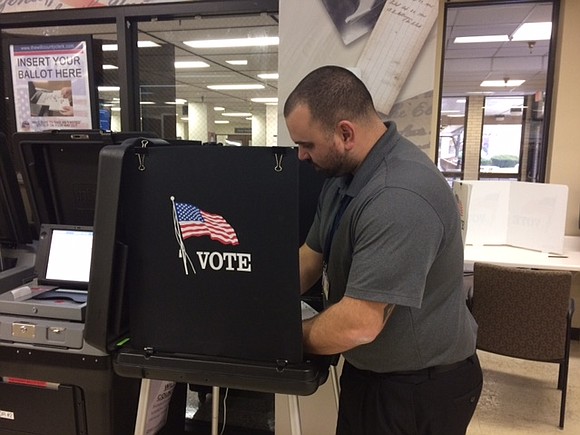 Despite there being another month to go before the March 20 primary election, voters in Will County can now start casting their ballots.
Early voting, which started on February 20, and runs through March 19, takes away any excuse not to vote says Will County Clerk Nancy Schultz Voots who was busy with last minute details on Tuesday this week as her office prepared to send out 1500 vote-by-mail ballots.
"Anyone can vote in the privacy of their home at their kitchen table," said Schultz Voots who is overseeing her last two election cycles before she steps down after the November 6 election. She's served as the county's clerk since 2002, and has worked at the office for a total of 43 years.
Unlike in years past, she points out the myriad options available for voters who no longer have to have a medical reason or be in the military to request a vote by mail ballot. She said that taking advantage of voting early or by mail also helps cut down on the congestion at ballot locations on voting day as well.

"You don't have to worry about lines, about spending gas money," she said. It's also a teachable moment for the next generation of voters as well.
"You're also educating your children on how important it is to vote," she said.
Since taking office in 2002, Schultz Voots has worked to keep up with the latest technology and to make it as easy as possible for people to participate in the election process. County voters receive a voter information guide in the mail that gives them all of the information they need to cast a ballot and even receive a copy of sample ballot. They even receive a map that shows the locations of polling places.
"The most important thing is that people are educated voters," she said. That's lead to higher voter turnout she said due to efforts by her office to ensure people know how the process works.
"The more we educate people the better off we are."
While February 20 was the deadline for registering to vote, county residents can still take advantage of grace period voting after the deadline and for anyone who waits until March 20 they can still register at the polling place and still vote.
"There's really no reason for someone not to vote," she said. The cutoff date simply allows the clerk's office staff to start producing poll books for the March 20 election.
Despite the option of same day registration and voting, Schultz Voots says that it can slow down the process at the polling place and can cause longer wait times.
"You don't really want to wait until the last minute but if you do there's still that option out there," she said.
Unlike Presidential election years, turnout for primary elections is usually lighter. Only 15.5% of registered voters cast a ballot during the 2014 primary election in Will County.
This year, 431,680 people have registered to vote in the county eclipsing the 411,240 who registered to vote in the 2016 election which saw just over 74.5% voter turnout.
What you need to know:
• If you missed the February 20 deadline to register to vote residents can still take advantage of grace period registration and voting until March 19.
• To register during the grace period you need to show 2 forms of ID, one with a current address
• Check your mail box for a voter information guide which was sent out on Feb. 20—it includes all of the details needed to vote including your polling place and a sample ballot
• Up to date information and a sample ballot can also be found on the Will County Clerk's website-- www.thewillcountyclerk.com