Early voting could be problematic for gubernatorial candidate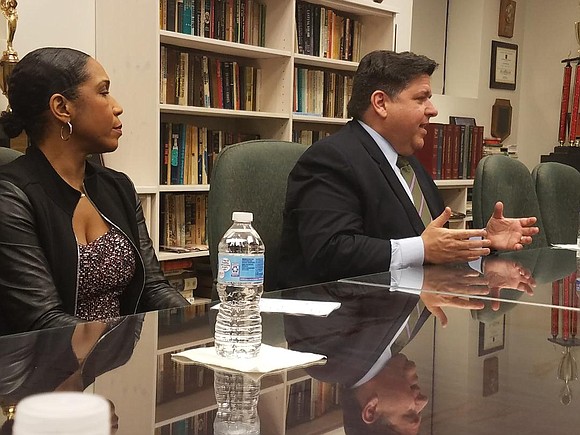 With 24 years of service on the Joliet City Council, the Rev. Warren Dorris has seen a lot as a voter, pastor, and former public official.
But on the eve of the early voting period in Will County, Dorris sounds fed up with candidates who project one image while trying to cut deals behind the scenes.
"We've had too many deal cutters that represent the state of Illinois," said Dorris on Presidents Day, a day before voters in the county started casting ballots for primary candidates.
The deal cutter he's referring to is J.B. Pritzker, a billionaire heir to the family that founded the Hyatt Hotel chain, and up until a few weeks ago, a safe bet for the democratic nomination for Governor.
Dorris doesn't mince words about the impact after hearing an FBI wiretap recording that reveals Pritzker talking to then-governor Rod Blagojevich about the validity of African American candidates that could replace then-President-elect Barack Obama in 2008. "Right now if the election was today I would not be voting for him," said Dorris who thinks that others share his sentiment.
"The wiretaps and those statements changed their mind," he said.
Torn
Will County resident Vicky Polito said that she wasn't swayed by the ad that featured the recordings of Pritzker, describing the calls as something that "dozens of guys were making" to the then-Governor looking for a job or some other favor. But she hasn't been happy with the tenor of the campaign, or the mudslinging she's seen between the democratic candidates, especially those calling in to question State Senator Daniel Biss' record.
Other candidates in the Mar. 20 primary election includes businessman Chris Kennedy, Madison County Regional School Superintendent Bob Daiber, former director of CeaseFire Tio Hardiman, and physician Robert Marshall.
"It really kind of irks me a little bit," said Polito who noted that she has done her "due diligence" on the candidates and was leaning toward Pritzker at first because she felt he had the best odds of winning in November.
Now she's trying to decide whether she'll cast a vote for Biss or Pritzker.
"I'm torn," she said.
Apology accepted
Herb Brooks, who serves as pastor of St. John Missionary Baptist Church in Joliet and represents District 5 on the Will County Board, still supports Pritzker's candidacy. It boils down to the way the candidate handled the revelation of the wiretap recordings.
"The first thing he did was apologize to the African American community," said Brooks, noting that Secretary of State Jesse White stood near the podium with him.
"When I saw Jesse White stand next to him and accept his apology that was all I needed," he said.
Brooks said that few people's conversations would stand up to scrutiny if taped and revealed to the public.
"There are a lot us who said things that we regret 10 years ago."
While that's his opinion, he realizes that there are some who still feel that they can no longer support his candidacy.
"I understand how they feel," he said.
Field of five
Joliet resident Amy Sanchez said that while she wasn't a Pritzker supporter, she was still doing her homework on all six democratic candidates and was open to the possibility of voting for any of them. She said she was circumspect of the support Pritzker's campaign had gotten early on from the "democratic machine" in the state but that did not eliminate him as a candidate until the wiretap recordings were revealed.
"The wire taps kind of sealed the deal for me," she said.
Sanchez said that she will probably vote early but was still trying to decide which of the remaining five candidates would get her support. Right now, she said, she's narrowed her field down to either Daniel Biss or Chris Kennedy who she favors slightly more at the moment.
"I think there is something more genuine there," she said of Kennedy.