Joliet 204 Schools news
2/21/2018, 2 p.m.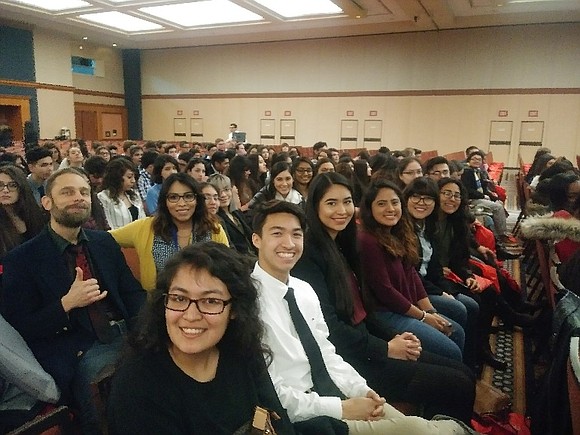 JTHS Teachers Receive 2018 Joliet Area Chamber of Commerce Great Teacher Award
Four Joliet Township High School teachers were selected to receive the Joliet Region Chamber of Commerce and Industry's Joliet Area Great Teachers Award in a special ceremony on February 8, 2018 at the Jacob Henry Mansion.
The teachers were selected from an extensive list of educators from the Joliet area who were nominated by their students, peers, administrators and members of the community.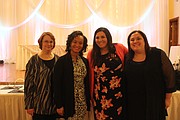 Joliet Township High School recipients are Kristin Blake, Cassie Crim, Mary Spata, and Lauren von Holst.
The Joliet Area Great Teachers awards were created to emphasize the vital partnership that exists between businesses and education in southwest Will County.
Joliet West High School Varsity Girls Bowling Send Off to State Competition
The Joliet West High School Varsity Girls Bowling Team is headed to the IHSA State Girls Bowling Competition this weekend.
The State Competition will be held at the Cherry Bowl in Rockford, IL on Friday, February 16.

Bowling team member Brooklinn Chavez said, "I'm the only freshman on the Varsity Bowling team this year, so it's a little scary but super exciting at the same. When I found out at sectionals that we were going to state, I cried because I was so proud of myself and my team."
Coach Bailey said, "The team has worked really hard this year. They've had ups and downs, which every team has. They worked through it together as a team and now here we are, heading off to state!"
To celebrate the team's success, a special send-off parade took place the morning of Thursday, February 15 and included the JWHS marching band and Flag Corps.

The team consists of Head Coach Jeff Bailey, Assistant Coach Larry Warwick, and team members Brooklinn Chavez, Camryn Feehan, Barbara Lunsford, Emily Preece, Alexis Robbins, Mary Taylor Wagner, Alexis Wagner, and Madeline Wharry.
JTHS wishes the JWHS Varsity Bowling Team the best of luck at the State Competition.
Pictured (Left to Right) – Back Row: Coach Jeff Bailey, Camryn Feehan, Taylor Wagner, Alexis Wagner, Lexi Robbins, Emily Preece, Coach Larry Warwick; Front Row: Barbara Lunsford, Brooklinn Chavez, and Maddy Wharry
Joliet Central High School Students attend US Hispanic Leadership Institute National Conference
On February 15, students from Joliet Central High School attended the United States Hispanic Leadership Institute's 36th National Conference. The event took place at the Sheraton Grand Chicago with the theme, "Generations of Courage: Preserve & Progress."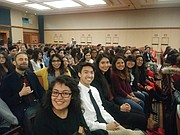 "The goal of the student leadership conference is to ensure that every child has the opportunity to obtain the level of education that is consistent with his or her maximum potential and the opportunity to be successful in life and career," said Joliet Central High School Counselor Aseneth Ruiz. "Their objective is to motivate students to stay in school, improve their academic performance, graduate and to pursue and successfully complete some level of post-secondary education and training."
The first session featured Raul Mateo Magdaleno, a nationally known, professional empowerment speaker with an inspiring story that stresses the importance of never giving up on the pursuit of an education despite the challenges involved.