Joliet mayor dispels Northpoint rumors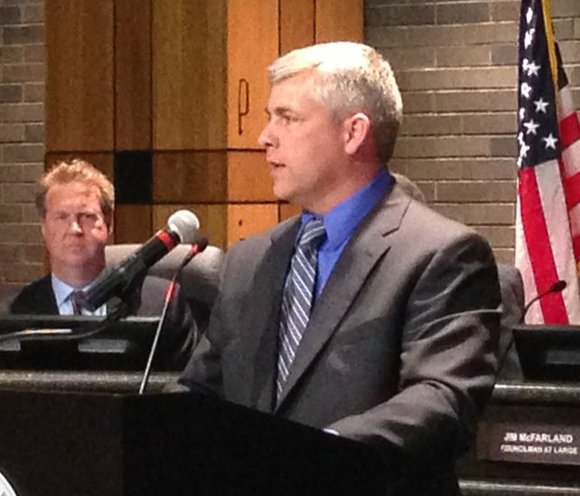 Joliet Mayor Bob O'Dekirk proposed taking a more active role in dispelling rumors that the city has any back room deal struck with the developer of a massive warehouse project in Elwood.
"Up until now I've told anyone who will listen that we've never met regarding Northpoint," said O'Dekirk at Tuesday's city council meeting.
He was referring to a proposal by Northpoint Development to create a 2,000-acre warehouse facility near Elwood and Manhattan.
O'Dekirk said that he recently met with two mayors of nearby towns who said that they were told that Joliet had struck a backroom deal with the developer but he emphasized that simply wasn't true.
"We've never discussed the proposal; we haven't met with anyone from Northpoint," said O'Dekirk who was backed up in his assertion from city attorney Martin Shanahan who said that during his time as interim city manager was never approached by an representatives from the developer.
A plan to annex 138 acres in Jackson Township in December seemed to draw some protestors of the Elwood project at a city council meeting in December though the project was unrelated to the Northpoint project.
Despite having no contact with Northpoint, and attempting to remain above the public fray, O'Dekirk suggested that the city take a more active role in dispelling the rumors that continue to swirl around the plan.
"I don't think sitting on the sidelines is working," said the mayor.
Hundreds of Elwood and Manhattan residents attended the public hearing on the Northpoint proposal in January with public comments lasting over three meeting sessions. Public outcry has centered on the increased truck traffic on rural roadways that are creating traffic backups and unsafe driving conditions for residents. Elwood's plan commission, however, approved the plan last month where it awaits approval by the village board.

"I've tried hard to keep the city of Joliet out of this argument," said O'Dekirk, acknowledging the "contentious" debate in Elwood that has spilled over to the city.
"But it doesn't seem to be working. We keep getting dragged in to it."