Homer Glen man wins December Forest Preserve photo contest
1/3/2018, 12:58 p.m.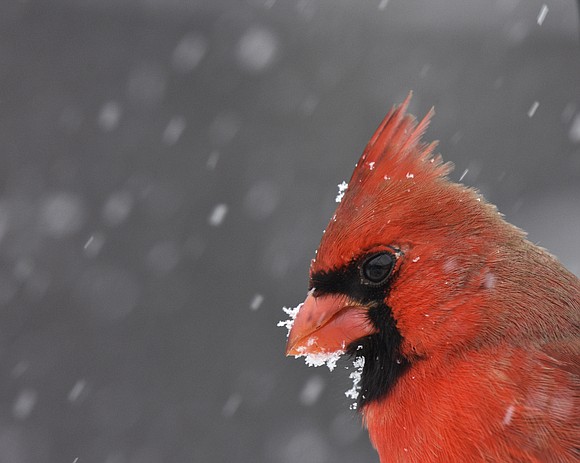 Now that a Homer Glen man's photo of a snowcapped cardinal has been chosen as the December winner in the Forest Preserve District of Will County's Preserve the Moment photo contest, voting can begin on overall winners.
John D'Agostino said he took the cardinal photo at Isle a la Cache preserve in Romeoville, which he called a "little wildlife hot spot" in Will County.
"I was off Christmas Eve morning, so I decided to head over to try to capture one of the belted kingfishers that sometimes patrol the river, or maybe a great horned owl holding over from the night shift. Long story short, I didn't get either. However, it had snowed a bit and I was able to capture this male northern cardinal foraging nearby."
D'Agostino said he participated in the contest to challenge himself to "actually tell a story" with his photos. "I love wildlife, and I thought it would be a good way to share what we have right here in our backyard."
Contest judges admired the photo's composition and clarity. Individual snowflakes are visible on the bird's beak, and the cardinal's cherry red plumage and crest are crisp and captivating against the wintry gray background.
December photos that earned honorable mentions were taken by: Sharon McCartan Bruemmer of Lockport for a stunning sky scene at Lockport Prairie Nature Preserve, Nancy Havener of Naperville for a crimson sunset at Whalon Lake, Aisha Ray of Romeoville for three playful opossums cavorting in a tree at Isle a la Cache and Barbara Parisi of Channahon for a serene landscape setting at McKinley Woods.
The 2017 contest began on May 1 and concluded Dec. 31. A total of 725 photos were submitted, and one winning photo was chosen each month. Eight monthly finalists will now compete for votes at Facebook.com/WillCoForests. Voting begins Thursday, Jan. 4, and ends Wednesday, Jan. 10. The top three vote-getters will win prizes.
To view all of the contest photos entries, visit Flickr.com/WillCoForests. For more information on Forest Preserve District programs and events, visit ReconnectWithNature.org.