The Shape of Water Nominated for Six Golden Globes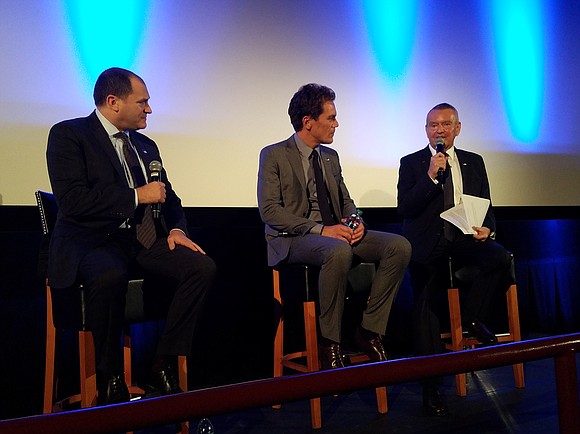 Director Guillermo del Toro (Pacific Rim, Pan's Labyrinth) has struck genre-laden gold with his latest film, The Shape of Water, currently in theaters, which was nominated for a Golden Globe in seven categories. The film was presented as the Closing Night Presentation in the 2017 Chicago International Film Festival, with Red Orchid Theatre and Steppenwolf Theatre alum, Joseph Jefferson Award winner and Academy Award nominee Michael Shannon, who plays the film's government issue bad guy, in attendance.
Nominated for both Best Motion Picture Drama and Best Screenplay (Guillermo del Torro, Vanessa Taylor), the film is also nominated for Best Original Score (Alexandre Despla)t, Best Supporting Actress (Octavia Spencer), Best Supporting Actor (Richard Jenkins), Best Actress (Sally Hawkins), and Best Director (Guillermo del Toro).
The film is a genre cross-breed, somewhere between the horror suspence of Creature From The Black Lagoon and the romance of Beauty and the Beast. There's even a small song and dance number thrown in to lighten things up with a campy feel.
The story takes place in a drab Baltimore government laboratory during the Cold War. A human-like sea monster is transported from the Amazon rain forest and kept in a tank. The creator is subjected to all varieties of inhumane torture and probing, not the least of which is a cattle prod (evoking the Bull Connor antics of Civil Rights era), wielded liberally by the square headed lab supervisor Richard Strickland (played by Shannon). Richard Jenkiins plays the gay neighbor Giles who, along with Zelda, the lab assistant, played by Octavia Spencer, form a circle of sympathy with lab assistant Elisa (Sally Hawkins), who bonds with the creature and eventually falls in love with it.
Beautifully filmed in alternating sepia tones and flashes of brilliant color by Danish cinematographer Dan Laustsen (Crimson Peak, with Guillermo del Toro, The League of Extraordinary Gentlemen) and shimmering score by French Film Composer Alexandre Desplat (Academy Award, Best Film Score, The Grand Budapest Hotel), The Shape of Water is a well thought out journey into the fantastic with a side trip into the heady questions of morality in the quest for scientific progress and the world of national security taken to the humanity crushing extreme.
Golden Globes airs on NBC Sunday at 7pm Eastern with Host Seth Meyers.