2018 Mitsubishi Outlander Sport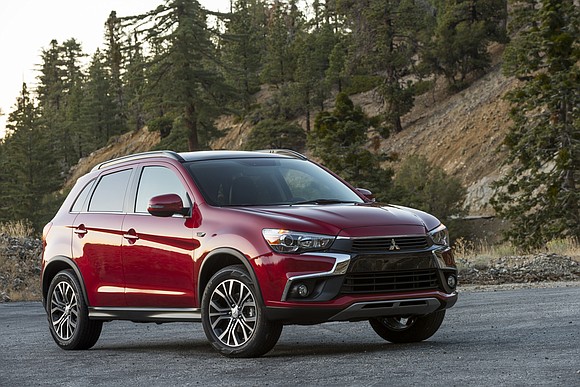 New offerings from Mitsubishi have been rare. The company has yet to recover from corporate decisions made more than a decade ago. Thus, it is easy to forget that Mitsubishi made quality products that were equal to any Japanese automaker and were technologically advanced for the time. That engineering and manufacturing knowhow is evident in the 2018 Mitsubishi Outlander Sport.
The Outlander Sport looked good. It had short overhangs, Mitsubishi's double grille and an accent line that ran from the front fender down the side to the corner of the rear taillight. It had flared wheel wells, black roof rails, side vents and a shark fin antenna. It was a sharp looking crossover.
It was powered by a 2.4-liter four-cylinder engine that made 168 horsepower and an almost matching 167 pound-feet of torque. We had the SEL trim line. That meant there was a continuously variable transmission with paddle shifters as well as all-wheel-drive.
Our 2018 Outlander Sport had an EPA rating of 22 mpg in the city, 27 mpg on the highway and 24 mpg combined. We are not a fan of CVTs but this one worked pretty well. Under normal power, we didn't notice the transmission and that's what you want with any gearbox, though a CVT does not have gears.
That's why we kind of chuckled at the paddle shifters. More and more automakers have surrendered to the fact that consumers have not warmed up to CVTs. So they have programed them to feign shifts to rid them of the audible drone under acceleration that makes drivers think there is something is wrong.
And some automakers have taken that to the next step by adding paddle shifters to vehicles without gears. We guess it is the thought versus the facts. And don't get it twisted, we're not singling out Mitsubishi, many automakers have done the same thing.
We tried those paddle shifters, once, didn't like it and didn't try it again. We didn't even bother to test the manual aspect of the gear shifter in the center console. Again it wasn't Mitsubishi, it was the concept.
We'd love to see some research on just how many people use paddle shifters on CVTs or the manual shift aspect of the transmission. In other words, how many people actually use this technology?
That said our test vehicle had some spunk. It was a little loud under hard acceleration but it got up to speed smartly. We thought cornering was good, the Outlander Sport braked well and the suspension provided a smooth ride.
However, we did think it could have been a little tighter. Steering was good but the crossover could have responded to driver input a little quicker. We took our test vehicle over a public road that was rift with asphalt patchwork, it is impossible to go five feet without rolling over a little mound of asphalt. In other words, it is the perfect noise, vibration and harshness NVH test track.
The Outlander Sport, at least the one we had, did so-so. We heard a couple of rattles that should not have been there. In fact, we didn't hear them on the return trip. And overall, a little too much noise was getting into the passenger cabin. But those were our only gripes.