Artists Guild hosts 25th anniversary show in Homer Glen
1/17/2018, 11:57 a.m.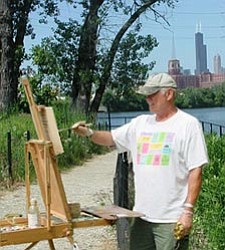 The Lemont Artists Guild Members' 25th Anniversary Show is at Lemont Center for the Arts January to February 25, 2018. A reception will be held Sunday, February 11, 2018 from 1:30 pm to 3:30 pm. The Lemont Center of the Arts is at 1243 State Street, Unit 101, Lemont, IL (in the 1st unit just south of Aldi, on the east side of State Street). The website for Lemont Center for the Arts is: https://lemontcenterforthearts.wordpress.com The Lemont Center for the Arts hours are Fridays 12 pm to 4 pm, Saturdays 10 am to 4 pm and Sundays 12 pm to 4 pm.
To celebrate the fact that the Lemont Artists Guild has existed for 25 years, members decided to display their art work at the gallery to share with the public. The exhibit has paintings, photography, fiber and jewelry. Many items are for sale. The Lemont Artists Guild is a place for people to share and learn about many art forms and presently meets on the third Wednesday of the month at the Homer Township Public Library. More information can be found on the guild's website, www.lemontartistsguild.org
The public is welcome. Free parking.
For more information call Liz Popp Connelly (815)341-1145 or
Lemont Artists Guild Mission Statement: Our mission is to enhance life in Lemont and surrounding communities by providing fine art education, instruction, programming and appreciation through a supportive environment that nurtures creativity and individuality.