Forest Preserve announces photo contest winners
1/17/2018, 11:56 a.m.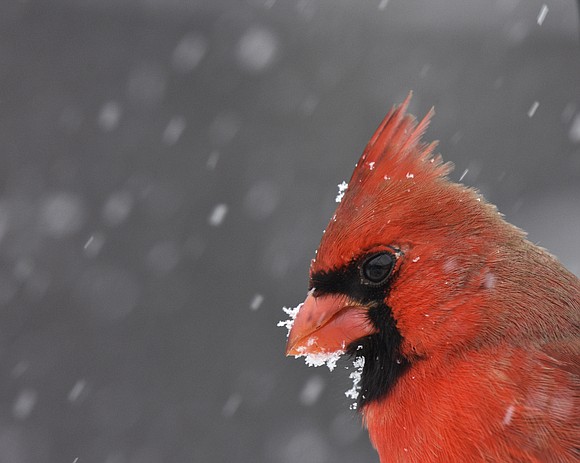 After eight months of competition, a Homer Glen man's photo of a snowcapped cardinal at Isle a la Cache preserve swooped in at the last moment to win the Forest Preserve District of Will County's 2017 Preserve the Moment photo contest.
John D'Agostino said he spotted the cardinal foraging for food in the Romeoville preserve on Christmas Eve. He was the last monthly finalist chosen by Forest Preserve judges from 725 entries submitted during the contest period, which ran from May 1 through December 31.
After being informed of his win, D'Agostino said he was happy to see so many other photographers submitting their work, which will encourage others to explore the preserves.
"Photography can be a lot of work, but seeing others appreciate the time and effort I have put into it is very gratifying," he said in an email. "I spend a lot of time in the preserves, running trails or walking my dog, and photography is just another way I can enjoy them."
The contest's overall winners were chosen from among the eight finalists by members of the public, who voted on the Forest Preserve's Facebook page, Facebook.com/WillCoForests, from January 4-10. Coming in second was August's finalist, Kathy Bobal of Braidwood, for her photo of a monarch caterpillar munching on a milkweed leaf at Rock Run Rookery Preserve in Joliet. In third place was July's finalist, Michael Fagan of Frankfort, for his photo of a stunning sunset at McKinley Woods in Channahon.
Photo: Homer Glen resident John D'Agostino's photo of a northern cardinal at Isle a la Cache preserve in Romeoville placed first in the Forest Preserve District of Will County's 2017 Preserve the Moment photo contest, which concluded in January.
All of the photo submissions can be viewed on the Forest Preserve's Flickr page, Flickr.com/WillCoForests.
Meet 18th-century fur traders at Louis Joliet Mall
Come meet Forest Preserve District of Will County interpretive naturalists as they portray Shishibe and Sylvie, French fur traders who lived among the Potawatomi tribe in Illinois Country. The "Voyage Through Time" program will be held from noon-3 p.m. Saturday, Jan. 20, in Carson's Court at the Louis Joliet Mall, 3340 Mall Loop Drive, Joliet.
Both the mall and the town of Joliet are named after the famous French-Canadian explorer Louis Jolliet. Jolliet lived in a time of adventure, and he inspired fur traders to travel up and down the waterways to trade with Native Americans. Shishibe and Sylvie will share stories about life in the village and river travel in the 1700s. The audience will be encouraged to engage in fun dialogue and activities.
Registration is not required for the free, all-ages program. For information on other Forest Preserve District programs and events, visit ReconnectWithNature.org.