Great Read art contest honors Dr. Martin Luther King Jr.
1/17/2018, 11:54 a.m.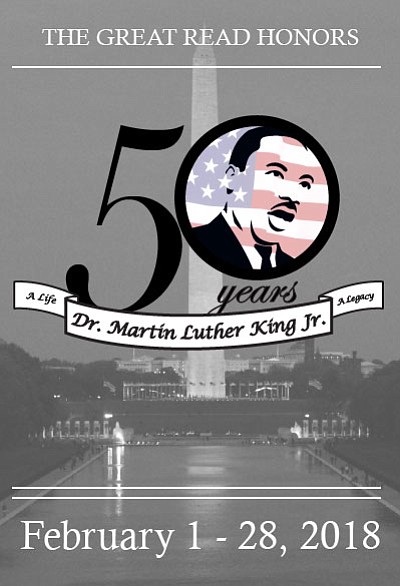 Plainfield – Dr. Martin Luther King Jr. died on April 4, 1968. Fifty years later, his activism and leadership with the Civil Rights movement and his commitment to peace continue to inspire and shape the world.
Plainfield-area artists from pre-kindergarten through adult are invited and encouraged to help honor Dr. King's life and legacy by taking part in the 2018 Great Read community literacy program's community art contest.
The 2018 Great Read program will run from February 1-28, 2018.
Artists can submit entries in any medium inspired by Dr. King. Entries can be up to two feet high and wide, and weigh up to five pounds. Digital entries of up to 2½ minutes long can also be submitted.
Art Contest applications are available now at local participating libraries and online at www.greatread.org
The top winner in each of the three age groups – Prek-5th; 6th-12th; and 18 and older – will win a $50 Barnes and Noble gift card.
Entries must be dropped off at the artist's local library by February 14, 2018. Participating libraries include:
• Plainfield Public Library -- 15025 S. Illinois St., Plainfield
• Fountaindale Public Library -- 300 W. Briarcliff Road, Bolingbrook
• Joliet Public Library, Black Road Branch -- 3395 Black Road, Joliet
• Joliet Public Library, Main Branch – 150 N. Ottawa St., Joliet
• Joliet Junior College Library – 1215 Houbolt Road, Joliet
• Lemont Public Library – 50 E. Wend St., Lemont
• The White Oak Library, Romeoville Branch – 201 W. Normantown Road, Romeoville
• The White Oak Library, Lockport Branch – 121 E. 8th Street, Lockport
• The White Oak Library, Crest Hill Branch – 20670 Len Kubinski Drive, Crest Hill
All entries will be digitally displayed and winners will be announced at The Great Read's Grand Finale at 6 p.m. Wednesday, February 28, 2018 at the Joliet Public Library/Black Road Branch, 3395 Black Road, Joliet.
All artwork must be picked up March 2-12, 2018 at the artist's home library. Artwork not picked up by 4 p.m. March 12, 2018 will be recycled.
The Great Read promotes literacy, reading, conversation and community in the greater Plainfield area.
The program is proudly presented by: the Plainfield School District 202; the Plainfield, Fountaindale, Joliet, Lemont, and White Oak public libraries; Joliet Junior College; Plainfield Township; and the Joliet Barnes and Noble store.
The Great Read is also supported by generous grants and in-kind donations from the Plainfield Foundation for Excellence, the Friends of the Plainfield Public Library, Plainfield Township, the Joliet Barnes & Noble, Voyager Media, WDCB Jazz Radio (90.9 FM) and participating libraries.
Please see The Great Read web site for more information about this year's program: www.greatread.org